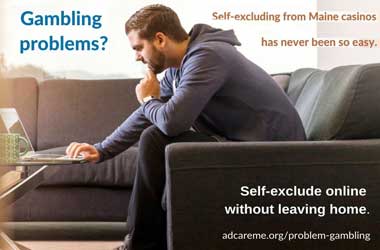 Summary
Players can self-exclude for one, three, or five years. A lifetime ban is also included.
Self-exclusion can be completed from home via the virtual option.
The launch comes during Problem Gambling Awareness Month.
To help Maine casino players have an easier way to self-exclude from gambling, the Gambling Control Board has decided to create a virtual program. Players can log online from home and self-exclude themselves from gaming in the state, with four levels to pick from.
Going Virtual with Self-Exclusion
In most US states, players must visit a physical casino to be placed within a self-exclusion program. Some offer mail-in forms, but this can be time consuming and limit the quickness of the player being added to the program.
In Maine, regulators decided it was time to launch a virtual format for players. Consumers already use the internet for most services, so why not make it easier to add a name to the self-exclusion list? Players can use this new service to voluntarily exclude for one year, three years, five years, or a lifetime. The time frame must be served before the player is welcome back inside a casino.
Players can log online and fill out a form, uploading identification documents before completing the action. The goal is to help more people be able to self-exclude if they need a break from gambling. A recent study in the state showed that 79% of people living in Maine gambled last year and 2% of that number played at a casino once a week or more.
What is Self-Exclusion?
The process of self-exclusion is required by gaming regulators in every state. The goal is to provide an outlet for gamblers to take a break as needed. The option is generally connected to land-based gaming but can also apply to online options when available.
Players that choose to self-exclude will need to fill out a form with personal information including eye color, hair color, etc. These details are used to identify someone if they try to enter a casino once on the list.
Regulators will send a photo of the self-excluded player to the casinos in the state. The information is made available to iGaming sites as well if applicable. The image helps casino employees know who to look for and stop them from entering the gaming floor.
It is important to note that some states will charge patrons with criminal trespassing if they set foot onsite. Know your options when signing up for self-exclusion and be prepared to avoid all casinos in your state. Take the break if needed and seek additional help from other services such as the National Gambling Hotline to find more resources in your area.
About the Author