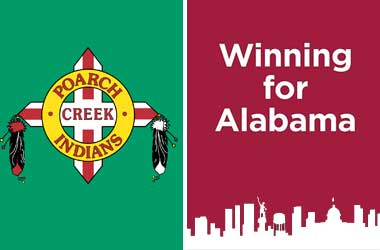 Summary
The tribe says 12,000 jobs and $700 million in yearly tax revenues would be provided.
The funds could be used to improve the state.
Recent bills supporting the effort of an expansion have failed.
In a new attempt to gain support for a gambling expansion, the Alabama Poarch Band of Creek Indians has announced a new television ad campaign. Titled "Winning for Alabama", the advertisement shows testimonials from individuals and provides insight as to how a larger gambling industry would benefit Alabama.
Bringing in Jobs and Cash Flow
According to the Poarch Band of Creek Indians, an expansion of the industry would help bring much-needed jobs and revenues to the state. The tribe operates the Wind Creek Casino in Atmore, but also has services outside the state of Alabama to grow its gambling operations.
The tribe has been pushing for expansion for years and legislation has popped up here and there to give them hope, but the measures failed to gain any traction. In the new ad, the tribe describes how gambling could bring as many as 12,000 jobs to the state and $700 million in annual tax revenues.
Any funds raised from the industry could be used to improve the state. Alabama ranks at the bottom when it comes to education, health care, and other categories. This large influx of cash could easily be used to help everyone in the state.
Bills Fail to Move Forward
For years now, the tribe has supported bills introduced in the House and Senate to try and expand the gambling options of Alabama. In 2022, a bill was introduced in the House that would have provided five casinos in the state. The four existing race tracks in Alabama would have been included in licensing, but the measure was unable to move out of the chamber.
Senator Greg Albritton has plans to try again for a gambling expansion bill but is reluctant to try again due to comments from the House. House Speaker Nathaniel Ledbetter has spoken out against gambling initiatives and seems to want nothing to do with expansion.
Alabama struggles to gain ground when it comes to a number of topics due to the republican and conservative nature of the state. Many lawmakers do not want to mess with gambling legislation and expansions due to their constituents. They fear a loss of office due to allowing something that many residents of Alabama deem immoral or simply wrong.
It will be interesting to see if the Poarch Band is able to gain any headway with their ad campaign. If enough people can see the benefit of a gaming expansion, there may be enough backing to get legislators to move on the topic.
About the Author