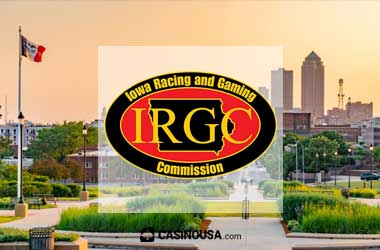 Summary
Diamond Jo Worth Casino allowed underage gaming last year
Horseshoe Casino Council Bluffs failed to provide self-exclusion services to a patron
Rush Street Interactive allowed credit card transactions which violated protocols
The Iowa Racing and Gaming Association was busy this past week handing out several fines to gambling operators. Two Iowa casinos were fined and one sportsbook, each breaking local regulations in a different way. Issues stemmed from underage admission, self-exclusion issues, and payment processing.
Two Casinos Fined $20,000
The Diamond Jo Worth Casino and the Horseshoe Casino Council Bluffs were both fined $20,000 for two separate violations. Diamond Jo allowed an underage individual to access the casino floor in May 2022. Since that time, no other minor issues were found by regulators, but the casino still had to pay $20,000 for the first violation.
The casino allowed the underage individual to enter the venue with three adults. The security officer at the door did not request identification, which is a requirement of the property. The minor was able to stay on the gaming floor for almost three hours.
Horseshoe Casino Council Bluffs was fined $20,000 for an incident that took place in April of last year. The casino had a visitor who asked a security officer about self-excluding from the casino. The customer was told that there was not anyone on site that could help with enrollment. All casinos in the state are supposed to always have an individual available for self-exclusion.
The casino told the patron to visit another casino and he was able to sign up at that venue. While the incident worked out in the end, the directions given by Horseshoe to the patron were not up to code.
Rush Street Interactive Fined for Payment Processing Issue
With the last fine, Rush Street Interactive was forced to pay $20,000 as well regarding its sports betting operations. The brand offers services in the state and uses a payment processing company to handle its transactions. The company allowed customers to use visa/mastercard credit cards to place funds within their accounts.
Companies are not allowed to provide credit card payment options to patrons. Officials found that Rush Street's provider processed 42 credit card transactions within an amount of just under $10,000. The company acknowledged the violation and paid the $20,000.
It is important to note that the payment processing company works for other sports betting providers in Iowa. The company allowed credit cards for around six of its sports betting clients, with each operator having to pay a fine for the violation. It would not be surprising to see action taken against the processing company for this mistake.
Regulators must ensure that operators are following the rules. Any violations are going to be subject to punishment based on severity.
About the Author