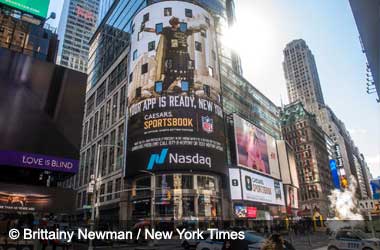 Summary
Senate Bill S1550 hopes to help potential gambling addiction issues.
Advertisements must include the NY problem gambling hotline.
The measure still needs to be voted on and approved.
As gambling services continue to expand in New York State, two legislators are taking action to protect players. Senators Luis R. Sepulveda and Leroy Comrie introduced Senate Bill S1550 this week, suggesting advertisement standards for the gambling and sports betting industries.
Details of the bill include an advertisement requirement where the New York problem gambling line must be included.
Details of the New Measure
S1550 is active and currently sitting in the Senate Racing, Gaming and Wagering committee. The bill fits into the Racing, Pari-Mutuel Wagering and Breeding law section and includes details on gambling advertising.
The goal of the bill is to ensure that players see warnings when viewing gambling advertisements. The warnings should indicate the potential effects of gambling including harm and addiction. The sponsors of the measure want players to be well-informed so they can seek help with any issues that may arise.
The measure is in the early stages and must still be placed on the floor calendar of the Senate and move through both the Senate and House before reaching the governor's desk. It is unclear if the measure has enough support to pass but it would be unlikely that it does not.
Downstate Casinos Coming Soon
The news of the gambling advertisement bill comes as the state is getting ready to launch three new casinos in the New York City area. Proposals have been submitted and will continue to come through over the next few weeks.
As more gaming comes to the state, lawmakers want to ensure players are protected. Advertisements are sure to grow as well, with more exposure to gambling across the state. Additional legislation is also on the table to help provide protection.
Back in December, Senator Pete Harckham proposed a bill that would require the Gaming Commission to create rules and regulations to ensure predatory mobile sportsbook bonuses are not in place. The measure was met with contention, especially by Senator Joe Addabbo. The Chairman of the Racing, Gaming, and Wagering Committee understands the need for rules via the commission and plans to ensure that members get it right to protect players in New York state.
It will be interesting to see what regulations are created and put in place that cover advertising standards as well as additional protections for players. What will legislators decide to do? Only time will tell if any of these measures are able to pass within the Senate.
About the Author