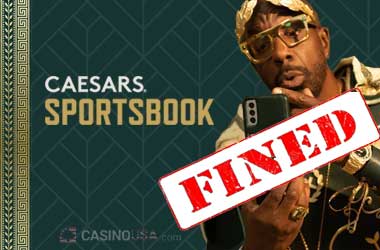 Ads failed to include messaging for responsible gambling.
A problem gambling hotline was also missing.
Sports betting just recently launched in the state.
Ohio Sports betting regulators in the state are not messing around when it comes to compliance. The new industry is just a couple of weeks old and already an operator has been fined for failing to meet regulatory standards.
Caesars Sportsbook was issued a $150,000 fine yesterday by the Ohio Casino Control Commission for violating advertising standards. The company did not include vital information that the regulator states must be added to marketing materials.
Failure to Comply to Advertising Standards
The Las Vegas-based gaming provider was found in violation of advertising rules, with ads not including messaging connected to responsible gambling. The operator also did not include a problem gambling hotline in its ads. An approved telephone number for assistance must be included. Yesterday we reported on New York introducing a bill to implement the same regulations regarding gambling advertising.
Caesars could have scheduled a hearing over the matter but chose not to. Eric Hession, the President of Caesars Digital, said that the error was made by a third-party affiliate that promoted sports betting within the Caesars app. The company is no longer working with this affiliate.
Commission Chair June Taylor commended the sports betting operator for acknowledging the problem and taking action. Taylor said the fact that Caesars ended its relationship with the third-party company speaks to the brand's values, philosophy, and leadership. She called it a 'model in compliance'.
Additional Fines Issued by the Commission
Along with Caesars, DraftKings and Barstool were also issued fines by the Commission. Both have been fined for similar issues. DraftKings was cited before the launch of services in the state for sending promotional materials to minors. The minimum age to bet is 21. The company may actually owe up to $350,000 for this violation.
For Barstool, the company was fined $250,000 for sharing a pre-registration code during a college football show. The show was a live broadcast that aired from the University of Toledo.
Because of the violations, regulators are reaching out to stakeholders and reiterating the need for compliance. The sports betting industry just launched on January 1 and already there have been several issues involving marketing.
The regulator takes compliance very seriously and is not afraid to penalize those who do not adhere to the rules. Of course, the operators are making changes once they are alerted of an issue, but regulators want to see such problems avoided at all costs.
It will be interesting to see if the fined operators as well as other companies in the state are able to follow the current regulations and avoid any similar issues in the future regarding marketing materials.
About the Author