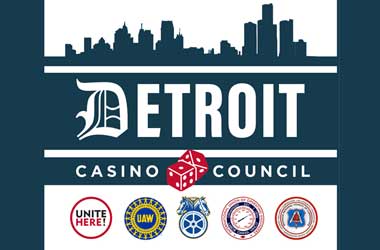 Summary:
A digital ad campaign launched November 13, targeting iGaming.
Players will be encouraged not to use apps until employees receive a new deal.
The goal is to inform the public of what's going on with the current strike.
Casino employees in Detroit have been on strike for some time now, and no new deal seems to be coming any time soon. The Detroit Casino Council (DCC) is the representative behind the casino employees working hard to see a new deal reached with major gaming providers.
Now, the DCC is preparing to launch a new campaign that will urge the public to avoid playing at major operators connected to the casino brands.
Digital Ad Campaign Out Now
The DCC wants players to avoid online operators, including casinos and sportsbooks until the employees have received fair compensation agreements from casino operators. Platforms included in the request are FanDuel, ESPN Bet, Hollywood, and BetMGM.
A digital ad campaign began yesterday that targets online players to let them know what is going on regarding the labor disputes. The hope is that players will be moved not to use the apps until the striking worker's demands are met.
The council feels that some online sportsbooks and casino users may not know about the ongoing strike and which physical casinos the online services are connected to.
Working Hard for a Deal
The DCC is a negotiating committee that involves five unions. The employees of Detroit casinos voted in late September to call for a strike; by October 17, the strike was on at the Hollywood Casino, MGM Grand, and MotorCity Casino. A total of 3,700 workers were impacted in positions such as cleaning staff, valets, dealers, engineers, and food workers.
The employees want to receive healthcare protection and wage adjustments to cater to the cost of living. Job security needs to be enhanced and workloads equitable. The strike marks the first time that casino employees have taken action.
The DCC has pointed out that the online services are critical sources of income for the land-based casinos in Michigan. The employees now call on the public not to cross virtual picket lines and help push the operators to complete negotiations and offer what the workers seek.
The casinos of Detroit earned over $2.2 billion in gaming revenues for 2022. This year, the casinos are on track for another record-breaking year. The employees are asking that the casinos share the wealth, especially since they are the ones who help the venues continue to function and cater to guests.
Will players listen and boycott the sites? Will it be enough to push the casinos to reach an agreement?
About the Author