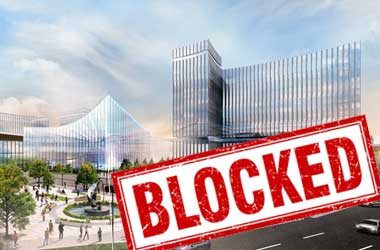 Summary:
The judge said open meetings and environmental laws were avoided before voting on the project.
The lease is now void, and hearings must begin again for a vote to take place.
Hofstra University is happy with the ruling as the campus is next to the coliseum hub and opposes the plan.
A state judge has thwarted an effort to bring a casino to New York by the Las Vegas Sands.
A recent decision by the Nassau County Government to approve a 99-year lease to the Sands for the Coliseum site to create a casino has been voided. The judge ruled that officials did not hold open meetings and give notice for environmental law reviews before voting on the matter.
A Voided Lease
Yesterday, Supreme Court Judge Sarika Kppor decided that the lease should be voided, and planning officials in Nassau County will now need to start over. New hearings must be held, and the county legislature can vote again once all protocols have been completed.
Hofstra University applauded the decision, as the school is located next to the hub of the coliseum. The school opposes the plan and does not want a casino added to the area. The college filed a lawsuit earlier this year as lawmakers and planning officials did not provide sufficient notice for public meetings and environmental reviews before the vote took place.
The judge also ruled that attorney fees and costs were to be paid to Hofstra by the defendant in the case due to the many claims. The college now looks forward to contributing to the planning process and advocating for using the Hub in ways that will contribute to the community as a whole.
Sands Will Not Be Deterred
Las Vegas Sands will not let the recent ruling stop them from trying to receive casino licensing in New York. The company remains proud of its proposals for the Nassau Hub and is grateful for the response they have seen from the Long Island community regarding its integrated resort plans.
Sands plans to continue its comprehensive outreach as it presents the 'transformational project'. The decision against the Sands comes as the New York Mets owner Steve Cohen reveals plans for Metropolitan Park, a casino complex and outdoor activity area next to Citi Field.
Major players are in the mix for a chance to earn one of three casino licenses for downstate New York. Two existing gaming venues are expected to receive two licenses, leaving only one for several big-name companies to compete for. Several entities have announced plans, each of which seem to have some hurdle to try to overcome to be selected.
About the Author