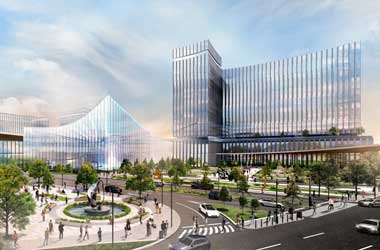 Summary:
Sands was given a 99 year lease to create a casino on the site in Uniondale.
This is the first step to create the new NYC gaming venue pending licensing.
Sands has plans to create a $5 billion casino resort.
The Las Vegas Sands gaming company has big plans for New York City. The brand hopes to be named as a license holder in the downstate area, with a proposal to create a casino at the Nassau Veterans Memorial Coliseum site. This site is located in Uniondale in Long Island and offers 80 acres of land. The Nassau County Legislature recently voted in approval to give a 99 year lease to the gaming company. The vote was an overwhelming 17 to 1.
Overwhelming Support from Officials
Most officials in Nassau County are in approval of the Sands plans to bring a casino to the area. Nassau County Executive Bruce Blakeman commented that the bipartisan vote in approval of the lease terms shows that the County has made the right decision. This is the first step in bringing a casino to the area, one that will include a hotel and luxury spa.
Sands has plans to spend $5 billion to create a luxury casino resort in Long Island. The property will offer something for everyone with outdoor community spaces, hotel rooms, live performance venue, and casinos. Sands has plans to bring restaurants to the area with celebrity chefs as well as convention space.
A casino is a portion of the project, but it cannot come to life until Sands has received a gaming license. There are only three up for grabs and it is expected that two will go to existing casinos at the Queens Racetrack Aqueduct and the Yonkers Raceway.
With licensing, these two venues would be able to offer table games alongside its slot operations. If the licensing is given to the two companies, it leaves only one left, and several brands want in on the action. The final decision as to who receives the licensing is left up to the Gaming Commission.
Opposition Looms Over the Project
County officials feel the casino and resort destination will be a revenue driver for the area. However, stakeholders are not in agreement. There are some who are opposed as they think it will bring more traffic and crime to the immediate vicinity of the property.
Opponents are trying to build a case so they can provide insight into why the casino should not be placed here and will plead their case ahead of the vote. Some opponents plan to head to Albany where they will speak against the proposal.
On the positive side, it is expected that the project will bring $100 million in annual revenues to the area and create over 8,000 jobs. The property has been sitting there for more than forty years, so many feel its high time that something is added to bring in money and jobs.
About the Author