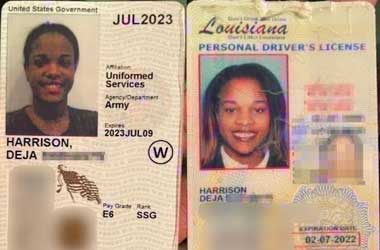 Americans love to show their loves for the troops, often honoring service members in programs and events.
But as the clamor for racial equality intensifies in the United States, one New Orleans casino is in hot water for denying entry to a female African American U.S. Army officer.
A viral video showed that a casino employee working for Louisiana's Harrah's New Orleans refused to let U.S. Army 2nd Lt. Deja Harrison enter the premises and questioned whether her ID is valid. And now, she is suing the establishment.
Lt. Harrison and her family were supposed to celebrate her step brother's birthday at Harrah's New Orleans on October 5. However, the employee would deny her entry, stating that while the IDs she presented were real, he did not believe she was the one in the picture.
After explaining that it was indeed her in the ID photo, and her Army payment stub, she would then begin take a video of their altercation. She would then post that video on Twitter, which went viral with over 289,900 views as of this writing. Harrison had also shown her vaccination card, as well as her state driver's license, but was still denied entry.
"I don't think this is you..I'll call NOPD and you can explain to them" -Corey from @harrahsnola @HarrahsLADowns

I showed 2 forms of photo I.D and even my Army paystub.

I shouldn't be discriminated against just bc I'm a high-ranked 23 yr old black female in the Army! pic.twitter.com/ziIFUz6XsX

— Deja Harrison (@dejaharrisontv) October 5, 2021
The employee would later threaten to call the police and have Harrison explain to them but even as Harrison and her party waited for two hours, the police never came.
Civil Lawsuit Against Harrah's
After her video went viral, Harrison spoke to several news outlets. She stated that that she found the experience humiliating, and that she was shocked that somebody would tell her that she was not part of the military, and that her ID was fake.
Harrison's attorney, James Desimone, also released a statement. He and a team of Louisiana attorneys are now ready to file a civil lawsuit against the casino on Harrison's behalf. Desimone also stated that the manager clearly had stereotypical thinking and implicit bias against Lt. Harrison.
He then added that because of the manager's biases, he could not believe that a young black woman would achieve such a rank. The lawyer stressed that what the manager did violates Louisiana human rights laws.
For their part, Harrah's New Orleans released a statement following the incident. The statement said they regularly check guests under 30 years old for their IDs to comply with gaming regulations. Their team members are also "trained to evaluate identification in accordance with local regulations"
The casino has also reached out to Lt. Harrison, but she has told them that she has retained an attorney and is continuing with her lawsuit.
About the Author