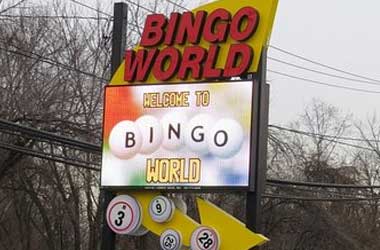 Summary
The new facility is located in Brooklyn Park, Anne Arundel County
Players can now access bingo games and sports betting.
The new location will offer additional employment to residents.
Sports fans in Maryland found a new spot to wager on their favorite teams as Bingo World now features a BetRivers branded sportsbook. The bingo facility teamed up with the gaming brand to launch the first ever non-casino retail sports betting location. So far, the state has provided 17 retail licenses for the new industry.
In-Person Sports Betting Alongside Bingo
Visitors to Bingo World can enjoy a complete Rush Street Interactive Inc. experience via the BetRivers sportsbook. The property opened at noon yesterday in Baltimore, offering gamblers 21 years or older a chance to bet on their favorite teams and games.
The sportsbook offers a well-rounded experience with betting markets featuring sports in the United States as well as international options. Players can post in-game bets, props, parlays and more. The property offers over the counter machines as well as 12 self-service kiosks. Many players prefer the self-service option since it is a quick way to wager with minimal wait times.
Several big names were on hand to celebrate the opening of the new sportsbook. Bingo World president Randy Clemens attended the ceremony along with Qadry Ismail, the former Baltimore Ravens wide receiver, and Adam Glass, the Director of B2B Services for BetRivers. Ismail placed the celebratory first bet at the book.
More Details on the Sportsbook
The new space offers 3,000 square feet of sports betting entertainment with a lounge area complete with 32 theater style seats. Guests can lounge in these seats with friends while watching the latest sports games via 21 high-definition video screens that surround the space.
The sportsbook also includes a bar with seating and high tops along with odds boards. Players can check out the streaming odds boards at all times to consider their next wager. The space looks very comfortable and will be a nice choice for bettors who do not want to travel to a casino to place a wager. It's great for bingo gamers too that are also sports fans.
Bingo World president Randy Clemons stated that he hopes the new space will be enticing to new customers as well as existing visitors. He pointed out that bingo is a reasonably priced game and sports bets can be placed for a couple of dollars. It's an affordable form of entertainment that people can enjoy today despite the current inflation prices in the US.
So far, the sports betting industry in Maryland has been quite lucrative. Around $175 million bets have been placed and operators have earned around $16 million. The state receives a 15% cut from the proceeds with around $3 million having been generated thus far.
About the Author