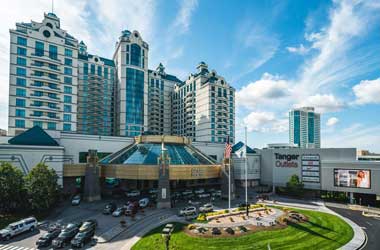 Summary
Phillip Tanner was arrested after picking up teenage runways.
The girls were taken to the Foxwoods Resort Casino to meet other people.
The suspect was arrested a short time after the runaways were reported.
An unusual case out of Connecticut involving the Foxwoods Resort Casino has many people wondering what was going on involving two teenage female runaways. Early yesterday morning, a man named Phillip Tanner was arrested for picking up teenage runaways and taking them to meet someone at the casino. Was the man just giving the girls a ride or was something more sinister at play?
Arrested and Charged with Risk of Injury to a Minor
In the early morning hours yesterday, officers were called to a home in Ledyard to investigate a runaway incident. Two females living in the home had run away while being supervised by the Department of Children and Families.
Police responded to the call and began investigating the matter. At around 3:30 am, a driver was stopped in Preston and the runaways were found in the vehicle. There were four females in the car, three of which were under 16 years old.
The suspect is said to have drove from Torringon to Ledyard to pick the girls up and take them to the Foxwoods Resort Casino to meet other people. Police stated that this is not the first time that Tanner has picked up runaways.
He is currently being held on bond and will be scheduled for court in the near future.
Why Travel to the Casino?
Because it the girls young age, it begs the question, why was Tanner taking the girls to Foxwoods? They are certainly not old enough to gamble, so why go there? It will be interesting to see if this side of the story is made public. Was it a simple meetup at that location or something else?
It reminds me of a recent publication by the American Gaming Association involving human trafficking. In late June, the AGA released a new resource for casinos to use to prevent and combat human trafficking. Tanner has not been charged with such a crime, but this incident brings to light how casinos should take the tools provided by groups like the AGA to heart.
The AGA has provided several tips on how to educate employees on how to recognize an incident of human trafficking and intervene. The guide also teaches casinos how to prevent human trafficking from occurring within gaming venues or facilitated through them.
Members of the AGA are actively applying the protocols provided, with signage in place that alert of the harm of trafficking as well as training employees on what to look for. Casinos are also teamed up with local police, nonprofits, and shelters.
About the Author