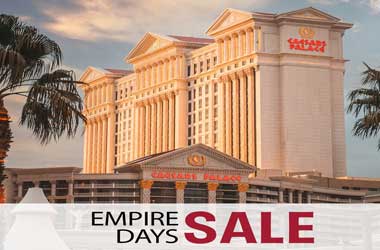 Summary
Empire Days promotion offers special hotel rates and residency tickets
Up to 40% off travel rates are on offer through May 31, 2023
Guests can enjoy deals in Nevada, New Jersey, and Missouri.
Caesars Entertainment has been in business for 56 years, having served several states with premium casino gaming and entertainment. To celebrate its upcoming anniversary, the gaming brand is offering a special promotion known as "Empire Days".
From now through August 8, travelers can purchase hotel rooms and residency tickets at discounted prices. It's a great time to travel at a much lower price point via the Caesars special.
Hotel and Entertainment Specials for Guests
Customers can book trips now for time frames through May 31 to take advantage of the special deals. The casino operator is offering as much as 40% off its resorts in Las Vegas, giving travelers a big cut in overnight stays.
Visitors can also attend shows in Las Vegas at up to 25% off for dates through April 2023. Shows on the list include Shania Twain, John Legend, Rod Stewart, Miranda Lambert and Van Morrison. A quick visit to the Caesars website provides all the show details.
Travelers can also visit locations outside of Nevada and still take advantage of great hotel deals. Properties in Atlantic City, New Jersey and Kansas, Missouri all qualify. Travel is not limited to Nevada which provides more guests with an opportunity to visit nearby Caesars locations.
Additional Promotions Offered by Caesars
In Las Vegas, the offers are more extensive and are not limited to hotel stays or shows. Guests can enjoy limited menus are top rated restaurants of Caesars properties including Guy Fieri's Kitchen & Bar at The LINQ and the Old Homestead Steak House at Caesars Palace.
Dining venues across Caesars properties are offering special menus and deals during Empire Days. Travelers visiting during this time frame are encouraged to take advantage of the many dining options. For those looking to relax and unwind, Caesars has included its spa services in Empire Week. Find deals on scrubs, massages, pedicures, and many other special treatments.
Perhaps one of the best deals offered this upcoming week involves the Caesars Rewards program. New members can access a free drink or $10 in casino play. There is a chance to earn up to $100 in casino play credits by swiping the new card through the Caesars Rewards Kiosk. Players also have a chance to earn a free stay on a qualifying return visit.
The options of rewards and incentives are endless during Empire Days. It will be interesting to see if the event week will prove fruitful for the brand in upcoming bookings and new visits!
About the Author