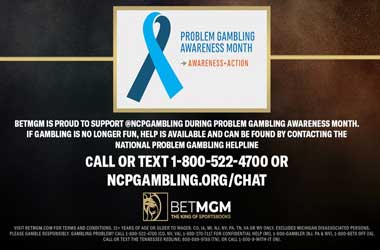 Summary
BetMGM will boost messaging as Problem Gambling Awareness Month begins.
The mobile app and ads will feature new messaging.
Digital and social platforms, plus on-property signage, are included.
As Problem Gambling Awareness Month begins in March, online gambling giant BetMGM has pledged to provide more prominent responsible gambling messaging within its services. The company will add responsible gambling messaging in a prominent place within its app and online/land-based advertising.
Reaching Canadian and US-Based Players
BetMGM is known for offering quality online casino gaming as well as sports betting across the United States and Canada. The company is now prepared to push it's responsible messaging across its entire network to ensure player safety.
Messaging will be added on mobile apps and within advertisements within physical and online platforms. Billboard marketing will be changed to ensure responsible gambling details and television and radio ads.
BetMGM is proud to support @NCPGambling during Problem Gambling Awareness Month.

If gambling is no longer fun, help is available and can be found by contacting the National Problem Gambling Helpline – call or text 1-800-522-4700 or https://t.co/SDhC0YKCfo. pic.twitter.com/fyhXzMW5zE

— BetMGM 🦁 (@BetMGM) March 2, 2021
The digital and social platforms will include BetMGM messaging, with on-property signage placed inside the brand's physical sportsbooks. The information was created with the help of GameSense, a program created by the British Colombia Lottery Corporation for MGM Resorts and BetMGM. The hope is that players will take note of the information and use it to their advantage.
Players can access tools and information whether they bet with the brand online or in person. Such tools can help players start on the right foot with responsible gambling or seek help for any gambling problem.
Committing to Responsible Gaming Promotion
The new effort is BetMGM's way of committing to responsible gambling and leading the gaming industry in this effort. BetMGM CEO Adam Greenblatt commented that as iGaming and sports betting continue to grow in the United States, it is important that players are equipped with tools and resources on how to play responsibly.
Companies should provide players with all the tools and information needed to ensure a safe environment. With GameSense, bettors have information on how to wager responsibly. BetMGM already uses GameSense within its digital platforms with tools that help players learn how to set spending limits and learn more about gambling-related misconceptions.
With responsible messaging, players can learn the basic rules of how to gamble and find resources to seek assistance if a gambling addiction is present.
BetMGM officials are hopeful that other companies will take similar action to ensure that players are protected. The main demographic of sports bettors is 21-35 years old, so it is imperative that the younger crowd know how to place bets responsibly and in a safe manner. With proper messaging, players can learn more and begin enjoying the gambling industry without a heightened risk of harm.
About the Author