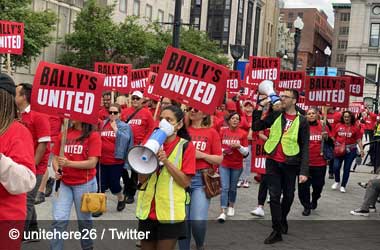 Summary
More than 200 Twin River Lincoln Casino employees gathered during the recent rally.
Employees want pre-pandemic staffing and scheduling plus higher wages and more benefits.
The union contract with the company ends on July 1, 2022.
Over 200 employees of Bally's Corporation in Rhode Island marched to the company's headquarters in Providence to demand that changes are made to their employment. UNITE HERE Local 26 helped in the effort, as its members want a fair contract that will provide a decent living via wages as well as quality health benefits and full staffing.
The employees of Twin River Lincoln Casino plus members of the hospitality and food service union gathered at the headquarters to demand that the parent company provide a new union contract. The goal is to see several changes made including bringing the staffing and scheduling back to pre-pandemic levels, so employees are not exhausted after each shift.
Union Contract Expires on July 1
Individuals taking part in the rally wore red shirts and carried signs that said Bally's United and UNITE HERE. The supporters and employees gave speeches and hope to see their action push the company to negotiate a new union contract.
The current contract expires on July 1, so there is not much time remaining to get a new one in order. Employees are hopeful that a new contract will be signed that allows everyone to earn a fair wage and get back benefits for healthcare coverage.
UNITE HERE Local 26 Vice-President Michael Kramer pointed out that the Twin River Casino is one of the largest employers in Rhode Island and they are doing quite well when it comes to earnings. By reopening full and bringing everyone back to work, Kramer feels that the casino would only benefit from it.
Remaining Profitable Despite the COVID-19 Pandemic
For the casinos in Rhode Island, the venues have been able to remain profitable despite the COVID-19 pandemic starting in March 2020. Last year, revenues at Twin River reached over 81% of pre-pandemic totals.
In 2019, the casino earned $535 million from video lottery terminals, table games and sports betting. In 2021, the amount was less, at $438 million, but still significant considering the continuation of the pandemic restrictions.
Before the pandemic, the casino had three times as many employees on a full-time basis than it does now. Right now, there are only 260 employees on the schedule and only 64 of those are full-time employees.
The casino is understaffed and most of the employees at the Twin River are exhausted after a shift because they are doing double duty. Employees complain about not being able to take a bathroom break or a drink of water because they are so busy.
So far, Bally's has yet to respond. We expect the company will release a statement soon on what they expect to do regarding the employees' union contract. It will be interesting to see what the company decides after their recent display by its workers describing what they want in the future.
About the Author