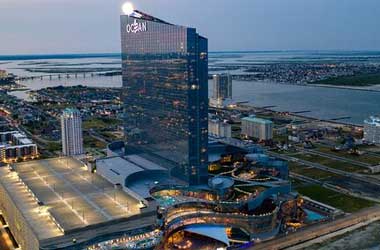 Summary
More than 450 hotel rooms and suites are renovated.
The property will offer a new players lounge on-site.
New dining and beverage outlets will also be on offer.
Since its launch in June 2018, the Ocean Casino Resort has continued to evolve.
The Atlantic City casino is a top spot for visitors to the area, quickly gaining ground on its competitors as a new and trendy spot to take advantage of. The casino is hopeful that its new updates valued at $85 million will continue to bring in new guests. The casino will unveil its new updates to the public on July 1.
Many casino visitors prefer to stay overnight when visiting a gambling property to enjoy all the venue has to offer. New guests to Ocean Casino will soon be able to enjoy the new Contemporary Blu rooms that the casino's hotel has to offer. The rooms are 463 square feet in space and are designed based on the shoreline.
Beach-inspired décor, along with flooring and wallcoverings, come together to create a calm and relaxing environment. New suites offer elevated finishes and amenities including a dining area and wet bar. Large lounge seating is also included, perfect for guest who want to host gatherings in their room.
New Lounge and Dining Upgrades
Along with the guest room changes, the Ocean Casino has created the new Gallery Bar Book & Games. This bar and lounge features drinks, video poker, roulette and blackjack, plus LED walls. The goal of this new area is to create a social betting atmosphere plus an after-hours space for guests.
A large open-air staircase connects the Lounge to the Balcony Bar where guests can enjoy a VIP sportsbook experience. This area is also a bar and lounge space.
Ocean will also see several drink and dining options added. On June 1, Serendipity3 will open along with a new Starbucks location later this summer. The Starbucks spot is located next to Topgolf for amazing views of the ocean.
Continued Success for Ocean Casino Resort
Since opening in 2018, Ocean Casino Resort has continued to climb the ladder of success. The casino is one of only four that was more profitable in the first quarter of 2022 when in 2019, which means the venue has been able to reach pre-COVID-19 revenue earnings.
Ocean Casino earned $18.5 million, landing at the number four spot when compared to the remaining eight competitors in the state. Ocean was up over 133% from 2021 totals, which shows the casino is seeing recovery and reaching new milestones with its operations.
It will be interesting to see if the momentum continues as the year progresses. With new hotel rooms, amenities, and dining/drink options, we expect the Ocean Casino Resort to continue to be busy for many months to come.
About the Author