Wild Casino
Bonus Offer:
$5,000 Welcome Bonus
More Info
Available Games
Slots
Blackjack
Roulette
Live Dealer
Baccarat
Features
Great selection of slots
High-quality live dealer games
Excellent welcome bonus
Crypto-friendly

Ignition Casino
Bonus Offer:
$3,000 Welcome Bonus
More Info
Available Games
Slots
Blackjack
Roulette
Live Dealer
Baccarat
Features
300+ games
Crypto-friendly casino
Live dealer jackpot
Bonus galore for different verticals

Cafe Casino
Bonus Offer:
350% up to $2500
More Info
Available Games
Slots
Blackjack
Roulette
Live Dealer
Baccarat
Features
Accepts cryptocurrencies
Generous welcome bonus
Loyalty program
Kahnawake Licence
41

casinos found based on your search.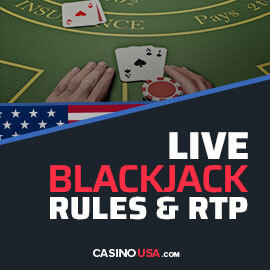 You can't affect luck, but you can certainly pick and choose the games based on their rules. Many of these affect the RTP, Return to Player, percentage that shows how much money you're set to win for every $100 invested. It's a theoretical number, but it still significantly influences how much you could win. 
With that in mind, let's look at the most common blackjack rules and how they affect the overall RTP value. By the end, you'll know which ones are the most favorable, so you can pick the blackjack games that have them and consequently improve your chances of winning. 
Most Common Live Blackjack Rules and Their Effect on RTP
Almost every rule changes the RTP of a live dealer blackjack game. This change might be the tiniest, but it adds up over time. Casinos know this, which is why many prefer games with rules that lower the RTP. 
As the player, you also need to be aware of this to avoid games with rules that damage the RTP value.
Number of Decks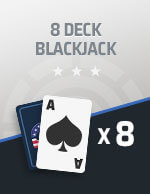 Blackjack games tend to use different numbers of decks. In general, most live dealer games use eight decks, just as real blackjack games in land-based casinos do. However, those that use only six are not few and far between.
The fewer decks of cards in play, the higher the RTP value.
With one deck in play, you get the baseline RTP value, but the more decks are added, the more the RTP decreases.
With the standard eight decks, the RTP lowers by 0.66%.
Doubling Down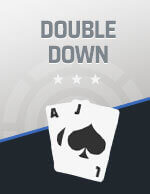 Doubling down is a standard rule in blackjack that lets you double the value of your initial wager. It's best to use it when you're confident in your hand, as the option requires you to stand down after taking another card.
When the option exists without restrictions, it increases the RTP by 0.25%.
Splitting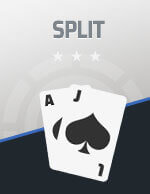 Splitting is a common option in blackjack, found in many live dealer blackjack variations. It provides you with more options and creates the possibility for an additional bet when used.
The way it works affects the RTP; generally, the more times you can split, the more the RTP rises. However, in most cases, this increase is too low to warrant making the additional wager.
Blackjack Paying 3:2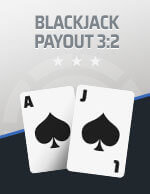 Blackjack payouts influence RTP values the most. When blackjack pays 2:1, the positive impact on the RTP is the greatest and stands at 2.27%.
However, the standard in most live dealer blackjack games is a payout of 3:2, and it improves the RTP only by 0.32% when the player can win with a tie and by 0.31% with the 6-Card Charlie rule.
A payout of 7:5, found in some live dealer games, lowers the RTP by 0.45%. The worst is when blackjack pays 1:1, as it decreases the RTP by as much as 2.27%.
Side Bets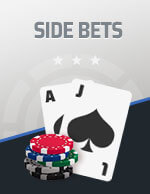 Many blackjack games have side bets — wagers you can place outside the main ones you make in any blackjack game. However, these are typically not worthwhile as the chances of winning are too low to warrant making a bet, even though the payouts are often quite big.
This is reflected in the RTP as well. The average RTP of a blackjack game is around 99%, while side bets usually have RTPs of 90% or lower.
Due to this, we don't recommend making them if you're looking to optimize your gameplay fully. But if you're only in it for the excitement, go ahead, as some side bets come with payouts of 1000:1.
Surrender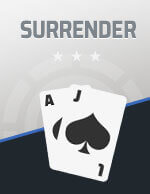 Certain live blackjack variations allow players to surrender. The rule affects the RTP value, but only slightly.
A late surrender can only improve the RTP by 0.08%. However, an early surrender increases the RTP by 0.24% against a dealer's 10 and 0.39% against a dealer's Ace.
5-Card Charlie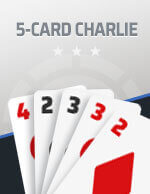 The 5-Card Charlie rule is simple — you win the game if you get five cards in your hand. It doesn't matter if you have a poor hand, like a 15.
The rule is a great incentive to take another card even if you feel you might go bust. Moreover, it increases the RTP percentage by 1.46% in most cases. However, it's still hard to reach five cards without busting, as the odds are around 50:1.
Which Live Blackjack Rules Are the Most Favorable?
We've already explained all the rules that positively affect the RTP, but here's a summary of the best ones, so you know what to look for:
Payout 2:1

5-Card Charlie

Single deck

Early surrender

Double down without restrictions

6-Card Charlie

Player wins in a tie
Conclusion
Almost every blackjack rule affects the overall RTP value of the game. The number of decks, payouts, and options like surrender, doubling down, and splitting can increase or decrease the RTP. 
The key is to remember which of these rules increases the percentage the most, so you can always play live dealer blackjack titles that have them. Using this short guide, you'll always identify the games with the highest RTPs and avoid the rest.
FAQ
What is RTP in blackjack?
RTP, or Return to Player, is a number representing the percentage of money players win from amounts invested. Most games of chance have it, including live dealer blackjack. The closer the percentage is to 100%, the more you can win.
How do rules affect the RTP of live dealer blackjack games?
Every rule in blackjack can impact the RTP as it changes the gameplay, payouts, and more. In essence, adding or excluding specific rules from blackjack games can raise or lower the overall RTP value by a small margin.
Where can I find live dealer blackjack games with the highest RTPs?
You should always look for the best blackjack sites on the web, as these offer the most benefits. This also includes a whole host of blackjack games with high RTPs.
What live dealer blackjack games have the best RTP?
Some of the titles with the biggest RTPs include Infinite Blackjack by Evolution (99.51%), First Person Blackjack by Evolution (99.21%), 2 Hand Casino Hold'em by Evolution (99.18%), and Golden Baccarat Live by Playtech (98.77%).
About the Author