Wild Casino
Bonus Offer:
$5,000 Welcome Bonus
More Info
Available Games
Slots
Blackjack
Roulette
Live Dealer
Baccarat
Features
Great selection of slots
High-quality live dealer games
Excellent welcome bonus
Crypto-friendly

Ignition Casino
Bonus Offer:
$3,000 Welcome Bonus
More Info
Available Games
Slots
Blackjack
Roulette
Live Dealer
Baccarat
Features
300+ games
Crypto-friendly casino
Live dealer jackpot
Bonus galore for different verticals

Cafe Casino
Bonus Offer:
350% up to $2500
More Info
Available Games
Slots
Blackjack
Roulette
Live Dealer
Baccarat
Features
Accepts cryptocurrencies
Generous welcome bonus
Loyalty program
Kahnawake Licence
41

casinos found based on your search.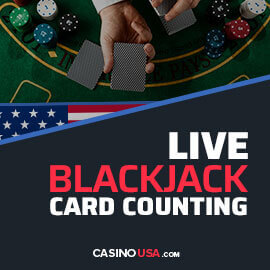 Live dealer blackjack may seem like an ideal opportunity to count cards — you'll get to play from the comfort of your home without a pit boss breathing down your neck, and you'll easily avoid embarrassing situations in case you get caught. Still, is this truly a good and profitable option? 
If you are interested in learning whether you should consider it, read on. We will also explain how card counting works in live dealer blackjack and what measures online gambling platforms take to thwart it. 
What Is Card Counting?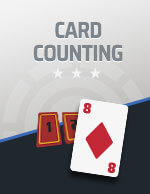 Card counting is a technique blackjack players use to increase their chances of winning. By using it correctly, they can figure out what type of cards are left in the shoe and get an estimate when they could hit a natural blackjack.
They don't need to identify the remaining cards precisely — instead, they only need to know if there are more high or low cards left. This is because their chances of natural blackjack improve with more tens and aces in the shoe. If a player increases their bet size at this point, they will potentially have an advantage over the house, which is what card counting is all about.
It's also worth noting that card counting is legal — still, casinos generally prohibit this practice. In both live dealer and RNG blackjack games, operators put some measures in place to keep card counting to a minimum. Nevertheless, there is still a possibility of counting cards in live dealer blackjack despite all the precautions they take.
How Does Card Counting Work in Live Blackjack?
Live dealer blackjack replicates the land-based game experience by featuring:
A real dealer
Real cards
A shoe
However, the main difference between land-based blackjack and a live dealer variant lies in the cut card and its placement. A cut card is a colored plastic card used to indicate where precisely the deck should be cut. 
In land-based blackjack, the dealer places the cut card behind about 80% of the cards. On the other hand, in the live dealer variation, it comes after 25%–50%. This means that if you decide to count cards in a live game, you will only be able to see 25% to 50% of the cards before the dealer reshuffles the deck, which only gives you a slight advantage. Most card counters strive to find blackjack sessions where they will get to see 75% of the cards. Unfortunately for them, casinos usually reshuffle before this point.
The number of cards you see before the reshuffle is known as deck penetration, and it can greatly influence your edge. It is an essential factor in live blackjack counting. The advantage players usually count on is higher deck penetration, as it allows them to place higher bets more confidently. Unsurprisingly, your card counting technique will be much more accurate with only one deck left in the shoe — especially compared to those situations when there are four or five decks left. 
As you can see, card counting in live blackjack is quite challenging. Nevertheless, it is still possible — but the real question is, is it profitable? The answer is no, as you would not be able to earn a considerable profit over time.
Additionally, if you play at the minimum bet table, you will have to use a large spread (the distance between the table's minimum bet and the player's maximum wager) to make a decent profit. For instance, if the table's minimum bet is $5 and you place a $50 bet, the spread will be 1–10 (50/5=10). 
If you attempt to use this tactic in a brick-and-mortar casino, you will probably end up banned. However, in live dealer blackjack, casinos are less strict about bet spreads. This is because deck penetration isn't substantial enough to let you have a considerable advantage in the first place.
Professional card counters spread their wagers between 1–10 and 1–15. However, with approximately 50% deck penetration that casinos offer in live dealer blackjack, you will need around 1–30 bet spread to get a significant edge. 
How Do Casinos Stop Card Counting in Live Dealer Blackjack?
Casinos use multiple techniques and methods to discourage advantage players from card counting in live dealer blackjack. This is what you can expect.
Multiple Decks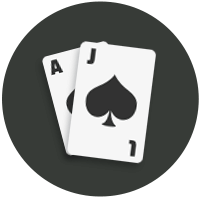 Compared to RNG-powered blackjack games, live dealer blackjack tables do not reshuffle after each round. Thus, some people think they are more susceptible to card counting. This is not the case, as they apply different security measures. Plus, there is a real dealer, and reshuffling after every round slows down the game.
For this reason, blackjack at a live casino is mainly played with 8 decks of 52 cards. And the number of cards puts off the majority of card counters. Additionally, since the shoe is changed every four decks, there is only 50% penetration.
Tracked Gameplay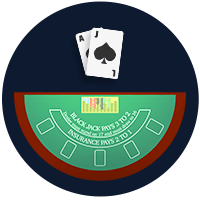 Online casinos constantly keep track of live blackjack tables. They use special software that closely monitors each player's betting patterns and the way the cards are dealt from the shoe.
The software compares the betting patterns, and if you are counting cards, your bets will consistently match the count. Once the software picks up your playing pattern, it will alert the casino of your doings.
Continuous Shuffling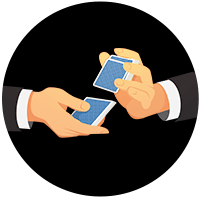 Live dealer blackjack utilizes continuous shuffling machines (CSM) to shuffle the decks before every hand.
This makes card counting almost impossible. However, some online platforms don't use them, mostly due to their high price.
Low Number of Hands per Hour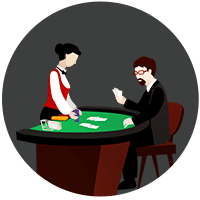 This is a massive setback for live dealer blackjack players. Namely, for card counting to be profitable, advantage players must play a certain number of hands per hour.
The higher the number, the more they can make. Some professional card counters can even play 100–300 hands per hour.
Unfortunately for them, live dealer blackjack is relatively slow, and the fastest session can feature only up to 50 hands. This is because each player needs time to think their decision through before pressing the button.
Conclusion
The bottom line is — even though card counting is not illegal, it is frowned upon in most casinos. Multiple techniques have been employed in an effort to catch card counters, but the problem has not been solved entirely yet.
When it comes to live dealer blackjack card counting, it is not impossible, but the efforts involved outweigh the potential gain. With the 50% deck penetration that this type of blackjack provides, you won't be able to make any serious money. Still, you will get an excellent chance to hone your counting skills and earn some extra cash.
Don't forget to be cautious, as the casino can quickly notice what you are doing and ban you.   
FAQ
How can a live casino fend off card counters?
Casinos typically use multiple decks, continuous shuffling machines, and gameplay monitoring to thwart advantage players.
Is counting cards illegal in live dealer blackjack?
Counting cards is not considered illegal in live dealer or any other blackjack variation since it is a playing strategy. Nevertheless, you should be cautious, as each casino has different rules and could quickly ban you.
Can I earn much money by counting cards in live dealer blackjack?
No, you can't. This game variant only allows up to 50% of deck penetration, which won't allow you to make any significant profit in the long run.
About the Author