35

casinos found based on your search.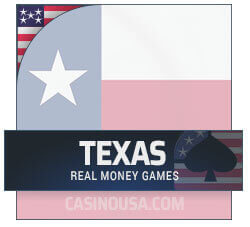 Online gambling is off-limits. Nevertheless, Texas residents can sign up in offshore online casinos and enjoy a fantastic gaming experience. Read on to learn more about the Texas real money casino games available on offshore gaming sites.
Are Real-Money Casino Games Legal in Texas?
The Lone Star State has a complex relationship with gambling. Aside from tribal-owned land-based casinos, the other available gambling forms include horse and greyhound dog racing, social casinos, state-owned lottery, DFS, and charitable gambling.
Even though tribal casinos operate under IGRA (Indian Gaming Regulatory Act), they still face many restrictions and often go through lengthy legal battles against the state. The first venue is Kickapoo Lucky Eagle Casino, owned by the Kickapoo Traditional Tribe of Texas. The other is Naskila Gaming, a venue operated by the Alabama-Coushatta Tribe that's been battling state authorities in court for years, trying to retain its right to offer electronic bingo.
According to IGRA, gambling is divided into three categories — social games fall under the first category. Bingo and card games that are legal in the state belong to the second class, and casinos don't require the state's approval to offer these games.
Class III gaming includes all banking card games and slots not based on bingo. Unfortunately, Texas is one of four states, alongside Alaska, Nebraska, and Alabama, where this gambling form is explicitly prohibited.
However, private poker clubs found a workaround and managed to stay afloat, thanks to their creative business model. These offer Texas Hold'em, but the games have no rake, no door charges, and no tipping from game chips.
Therefore, tribal land-based casinos only offer bingo-based slots and private dealer-led poker (only in Kickapoo Lucky Eagle Casino).
TX Online Casinos Laws
While gambling is heavily regulated in Texas, its online counterpart is in a legal gray area. The Lone Star State doesn't have any legal state-owned online casinos. However, it doesn't restrict its residents from playing in offshore online casinos.
Therefore, if you want to do some research and learn more about gambling laws before joining an international online casino that caters to Texas residents, check out these links:
How to Register in Real-Money Casinos
Residents of The Lone Star State face many restrictions when gambling is concerned, especially in its online form. Since online casinos are explicitly prohibited in Texas, players don't have many options — they have to choose between social and offshore online casinos.
You'll uncover exciting and rewarding gambling opportunities if you choose the latter. Simply check out our recommendations, pick a favorite casino, and get started. Here's how:
Once you've found the right online casino, use the links on this page to visit its official site.

Select the option to become a member.

Complete the registration form with the required information (name, address, date of birth, email, phone number, username, password).

Confirm the registration and verify your account via email.

Log in to your newly created profile, top up your bankroll, and enjoy!
Best Real-Money Casino Games in Texas
As you know by now, The Lone Star State hasn't legalized many casino games. Those looking for real casino action can visit one of the two casino-like venues owned by federally recognized tribes.
You'll get to try bingo-based slot machines and private poker, thanks to a loophole. However, the latter is only available in the Kickapoo Lucky Eagle Casino. That's it — no other casino games are legal in Texas. Let's look at the gaming options and their availability to passionate gamblers from The Lone Star State.
Useful Guides for Texas Players
Texas online casinos games can be difficult to understand especially with all the laws that govern their use, so here are some excellent, easy to read and in-depth guides to get you started.
Conclusion
Although Texas has some of the strictest gambling laws in the nation, it offers several gaming options to its residents. Tribal-owned casinos have found innovative solutions and introduced bingo-like slots, video poker machines, and poker rooms.
While online gambling probably won't enter the legal landscape soon, offshore casinos will give Texans a memorable gambling adventure from the comfort of their homes. So, if you're ready to uncover a rich world of unique gambling options, check out our list and choose your favorite casino.
FAQ
Are real-money games legal in Texas?
Real-money games are available only in tribal casinos. However, even with IGRA (Indian Gaming Regulatory Act), the state still fights the tribes and tries to shut down their gambling activities. Nevertheless, the two operational tribal casinos offer limited games, including bingo-based slot machines and dealer-led poker. Legally, table games are not an option as they fall under Class III gambling.
What real-money games can I play in Texas?
Texas laws explicitly state that Class III games are illegal. Even though tribal casinos operate under IGRA, they must have approval from the state to offer Class III games, such as table games and slot machines not based on bingo. Luckily, the tribes have found a workaround and created electronic machines that fall under Class II gambling, allowing Texans to enjoy real-money bingo-based slots.
Is online gambling legal in Texas?
No, it's not. Texas has various laws that explicitly prohibit online gambling. DFS betting is the only available online gambling form. Online casino games are illegal in Texas.
Can I play real-money games in offshore casinos from Texas?
Yes, you can. While the state prohibits online casinos, it has no laws regarding offshore casino sites that accept Texas players. If you need help choosing the right one, check out our list and see which one meets your needs and preferences.
About the Author