35

casinos found based on your search.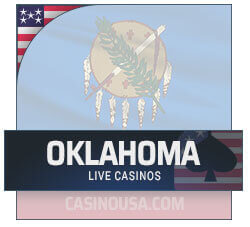 Are Live Casinos Legal in Oklahoma?
Online gambling and, consequently, live dealer casinos are not legal in the Sooner State. This is a relatively conservative state regarding gambling, as only tribal land-based casinos and horse racing are legalized.
However, there is still a big push in the state's legislature to finally legalize sports betting and online gambling, similar to what is being done throughout the nation.
We don't have a date for this, so until it happens, Okies can still use regulated offshore online casinos and live dealer casinos.
OK Live Casino Laws
Oklahoma has been strict on gambling for most of the 20th century. It only started to loosen up when it legalized horse race betting in 1982. After that, things began to change, and by the late 80s, the state had a deal with the OK tribes to allow bingo, specific electronic games, and pari-mutuel horse betting in tribal establishments.
In 1992, the state passed the Charitable Games Act that allowed bingo, pull tabs and other raffles. Then, in 2004, the Sooner State finally legalized Class III games, which allowed tribal casinos to place slot machines, electronic games, and most importantly, table games.
The Oklahoma State Lottery began soon after that, in 2005, after a bill was passed two years prior.
It's worth noting that the state still has laws that specify punishments for people participating in illegal gambling activities. Unlawful gambling is viewed as a misdemeanor, yielding a fine of $25–$100 and up to a month in jail. This is set out in the Oklahoma Statutes, specifically Title 3A §200 et seq.: Horse Racing and Title 21 §941 et seq.: Gambling. However, these rarely, if ever, apply to online offshore gambling.
How to Register for Online Live Casinos in Oklahoma
If you want to play live dealer games like roulette, blackjack, and poker, you will have to choose an offshore live casino and create an account on the site. Thankfully, the process is typically relatively fast and straightforward and mostly the same regardless of the site you choose. Here's how it works:
Choose a live casino from our list and click the link provided. 

Begin the registration process by clicking the Sign Up/Register/Join button. 

Follow the instructions and input all the necessary details like your name, email, address, age, and desired password. 

Complete the registration and verify your account when prompted.

Once the casino account is ready, log in, make a deposit, and start playing the games on offer.
Best Live Dealer Casinos in Oklahoma
Despite the lack of proper regulation for online gambling, you are still perfectly fine joining offshore casinos. A land-based casino in the state is also an option if you're looking for a completely legal alternative. Let's discuss both.
Online Live Casinos in OK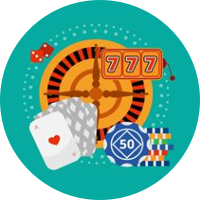 The good news is that even though they are not regulated, online live casinos are certainly an option for Okies. You only need to choose a safe and regulated offshore online casino, like the many we recommend on this page.
Even though there are fines for unlawful gambling, as these live dealer casinos are not mentioned in the laws, the legality is murky. We've never heard of a case where an Oklahoman who played at an offshore casino was ever punished in the state.
So, you are free to play online live roulette or any other game on offer in some of the best Oklahoma real-money live casinos we list on this page.
However, if you fear that this might lead to you getting in trouble with the law, you should stick to the land-based options in your area.
Land-Based Casinos With Live Cameras in Oklahoma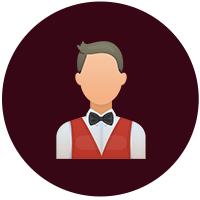 As we've previously mentioned, OK is home to around 100 land-based casinos. All of them are tribal casinos, so they all exist on tribal land. They are scattered throughout the state, so they shouldn't be too hard to reach, no matter your location.
For instance, there are many casinos around Oklahoma City, like the large Riverwind Casino Norman.
The tribal casinos in the state typically offer a combination of slot machines, table games, and casual games.
None of them have a live webcam or something similar that would allow them to stream the games so you can play from home. You will always have to visit one of these locations, so make sure you check their hours of operation.
Popular Live Dealer Casino Games in OK
The live dealer casinos that accept OK players are pretty numerous, so expect to see a wide range of live casino games on them.
In almost every casino we recommend here, you'll get a wide range of blackjack, roulette, and baccarat variants.
But that's not all, as some casinos go a step further to offer other interesting live dealer games. Live poker games are pretty common, and various game shows like:
Just pick a casino from the list and check out its games. Do it with several casinos until you find the one that offers all the games you are looking forward to the most.
Useful Guides for Oklahoma Players
Oklahoma online casinos can be difficult to understand especially with all the laws that govern their use, so here are some excellent, easy to read and in-depth guides to get you started.
Conclusion
As you can see, Oklahoma is still a relatively gray area for live dealer games. Land-based casinos are permitted on tribal land, and many of them exist. However, online live casinos are not regulated, but they are hardly criminalized.
There are plenty of good options among offshore casinos, and we have never heard of a case where the state has prosecuted a player for using the service of one such website.
So, feel free to pick a casino from the recommended list on this page and start having fun with some of the best live dealer games on the market. 
FAQ
Are live casinos legal in Oklahoma?
No, OK is yet to legalize online gambling. Only horse racing and tribal land-based casinos are regulated, while all forms of online gambling aren't. However, you can still join offshore online casinos with live dealer games.
What is the legal gambling age in Oklahoma?
The legal gambling age in Oklahoma is 18. However, if an establishment serves alcohol, the limit increases to 21.
What are the best live dealer casinos in Oklahoma?
All of the online casinos we recommend are among the top live dealer casinos Okies can use. We've made sure to find the best ones primarily based on the games and bonuses they offer
Do land-based casinos in OK have live games?
Yes, they do. There are around 100 land-based casinos in the state, plenty of which offer various table games.
About the Author