35

casinos found based on your search.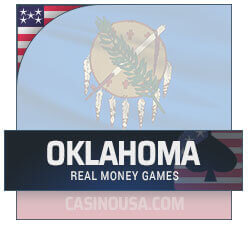 The text below will uncover all the secrets about Oklahoma real money casino games. Make sure to read it and get answers to all your questions about this popular pastime in the Sooner State.
Are Real Money Casino Games Legal in Oklahoma?
Oklahoma wasn't as quick to legalize all forms of gambling as some other US states. Yet, eventually, the Sooner State permitted Native American tribes to offer all classic casino games in their venues.
In 2004, Oklahoma gave the green light to selected Class III games and enabled tribal casinos to offer slots, electronic games, and selected card and table games. However, it took more than a decade for the state to legalize games like craps and roulette, which became available in Indian casinos in 2018.
Apart from these, players from Oklahoma can place real money bets on horse racing and take part in the state lottery. As for online casino gambling, Oklahoma still doesn't have any good news, as the state legislators aren't yet willing to consider online gambling regulation.
OK Online Casinos Laws
Online gambling in Oklahoma isn't expressly forbidden or mentioned in any state statutes, acts, or codes. While some players would consider this a sign of online gambling being illegal, others may view the lack of information as a great opportunity for playing games in offshore online casinos.
If you're interested in researching the laws yourself, check out the links below and decide which of the two options will prevail:
How to Register in Real Money Casinos 
All players willing to try their luck in offshore online casinos can do so after opening an account on their chosen gambling site.
Below are the steps you need to take to register in real money casinos quickly and easily:
Examine our list of the best offshore casino sites and pick your favorite.

Follow the link to the casino's official page and then start the registration process by hitting the respective registration button.

Fill in your personal information and create a unique username and password.

Submit your registration form and verify your new account if the casino asks you to.

Log in to your new account, make a deposit, and start having fun!
Best Real Money Casino Games in Oklahoma
At this point, players from Oklahoma have many options when it comes to real money casino games, at least in land-based tribal gambling venues. Although online casinos aren't legalized in the Sooner State, players have an option to join a variety of offshore casino sites.
One way or another, games available to Oklahoma residents are pretty versatile and include popular casino titles that we'll discuss below.
Useful Guides for Oklahoma Players
Oklahoma online casinos games can be difficult to understand especially with all the laws that govern their use, so here are some excellent, easy to read and in-depth guides to get you started.
Conclusion
As you can see, Oklahoma allows real money games in almost all forms in land-based casinos operating on tribal land. By visiting any of those establishments, you get access to real money blackjack, roulette, baccarat, and other games.
Unfortunately, the state still hasn't said yes to legal online gambling, but its laws don't specifically address gambling on the internet. Therefore, if you feel like playing casino games online, we've prepared the ultimate list of international online casinos where players from Oklahoma can enjoy the best real money games available today.
FAQ
Are real money games legal in Oklahoma?
Yes, they are. Players from Oklahoma can try real money games in land-based tribal casinos within the state, provided they are old enough to do so.
What real money games can I play in Oklahoma?
Real money games you can play in Oklahoma include almost all popular game types, including blackjack, baccarat, roulette, video poker, slots, craps, and more.
Is online gambling legal in Oklahoma?
Unfortunately, Oklahoma still hasn't officially legalized online gambling, so you won't find any legal online casinos operating in the state.
Can I join offshore casinos and play online games from Oklahoma?
Oklahoma gambling laws don't specifically ban online gambling, meaning that you can technically join offshore casino sites. If you need recommendations, our list is the best source of international online casinos that accept Oklahoma residents.
About the Author