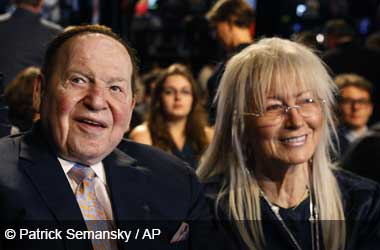 Las Vegas Sands (LVS) Corp, the biggest casino operator in the world has had only one chairman and leader since its establishment – the late Sheldon Adelson. The 87 year old casino magnate passed away on Jan 11, 2021 and his long-time associate Robert Goldstein took up the interim position.
LVS share prices have fallen by 5 percent since Adelson's passing and it will now be up to the new leadership and Miriam Adelson who is now the biggest stakeholder in the company to decide what the future will be for LVS.
Miriam Adelson was married to Sheldon Adelson for over 32 years and the two shared a very close relationship and were best friends. It's no surprise to see that Sheldon Adelson left his LVS stake to his wife who now has a 55.6 percent ownership stake.
CNBC Television
The 75 year old Miriam Adelson is an Israeli doctor who is also a very astute businesswoman who supported Sheldon Adelson in a number of his key projects, especially his philanthropic work towards Israel and his financial support towards the Republican Party.
Miriam Adelson's biggest challenge in the next few months is going to be the future of LVS. Will Miriam continue to remain the biggest shareholder and take on a bigger leadership role in the daily operations of LVS or will she sell her shares on the open market and distance herself from LVS?
We will not have to wait for long to find out as LVS needs to make a number of important decisions in the coming months. What we can assume is that Sheldon and Miriam Adelson would have definitely discussed the future of LVS without Sheldon at the helm.
LVS Has Three Key Decisions To Make
The first decision that LVS will need to make is regarding the sale of its iconic Las Vegas properties which include the Venetian and the Palazzo. Sands Corp. surprised the industry in late 2020 when it announced that it was willing to sell its casinos and convention business on the strip for $6 billion.
LVS has suffered a $1.3 billion loss in revenues during the first nine months of 2020. LVS is looking to bring in more cash through the sale.
The second decision is with regards to its license renewals in Macau which expire in June 2020 and its $5.5 billion budget to expand and renovate casinos in Macau and Singapore.
The third decision is regarding LVS's push to get casino gambling legalized in Texas and whether they will push forward with acquiring a casino license in Japan.
About the Author