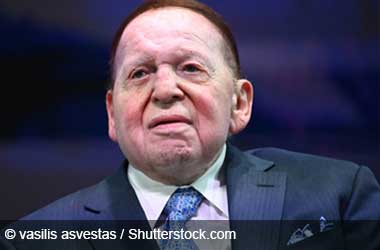 Casino giant Las Vegas Sands Corp. lost nearly $1 billion in revenue during the second quarter of 2020, in comparison with the second quarter of 2019.
Sands' CEO Sheldon Adelson has remained optimistic that the company will soon get itself out of this hole as casinos start to re-open around the world after the easing of social distancing measures due to the ongoing COVID-19 pandemic.
Sands generated just $98 million in revenues for the second quarter of 2020. Sands' adjusted earnings for the second quarter last year was $1.27 billion in 2019, which sunk to negative $547 million this year. In total, Sands has had a net loss of $985 million compared to their net income of $1.11 billion in 2019.
FOX5 Las Vegas
Gaming Revenues Drop The Most
Sands' woes are tied to the shutdowns their properties had to undergo in Singapore, Nevada and Macau. Despite Macau's shutdown lasting only 15 days, compared to roughly three months in Nevada, the Sands' Macau locations have struggled to recover.
Sands gaming revenue dropped from $2.36 billion during its second quarter in 2019 to this year's $10 million. Gaming revenue for Sands fell behind its revenue from food and beverage ($12 million), convention, retail, and other ($20 million), and rooms ($14 million).
Sands China Struggles to Recover Post-Lockdowns
Sands' China business is also struggling after a drastic reduction in VIP guests. Furthermore, the few high rollers who played won more than expected. The Venetian Macao's win rate over their VIPs decreased by two points to 1.48%, half what was expected by the firm. The Plaza Macao (2.42%) and the Parisian Macao (-6.4%) logged similarly dismal win rates over VIPs.
Results from mass entry tables showed similar trends. In addition to losing out on the number of gamblers, the Sands was also unlucky with regards to how much the gamblers won on their tables.
Marina Bay Sands in Singapore has an occupancy rate of just 40.2%, which is the highest for the company currently. Only one Macau property holds an occupancy rate of more than 10%. Sands' Las Vegas properties took a smaller hit than most, but their occupancy still stood at just 33.5%.
Sands President Rob Goldstein stated that, despite the easing of travel restrictions in Guangdong, China, the firm still doesn't believe that their China operations will recover anytime soon. Goldstein was even less optimistic about its Las Vegas operations, as he believes the market depends highly on the availability of airfare, which he believes will not return to normal in the coming months.
About the Author