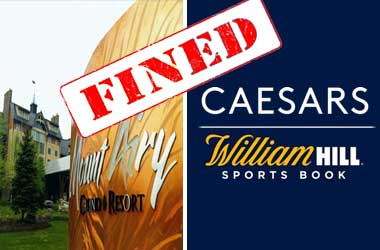 Summary
The PGCB fined Mount Airy casino $260K in fine for two violations, including underage gambling
A VGT operator in Pennsylvania was also fined $20K
William Hill is facing a $100K fine over an unreported system failure that affected 50,000 bettors
The Pennsylvania Gaming Control Board (PGCB) has fined two gaming operators for underage gambling and other license violations. The fines, amounting to $280,825 in total, were handed down to Mount Airy Casino Resort, and Pilot Travel Center and PFJ Southeast, which operates two Video Gaming Terminal (VGT) establishments in the state.
The fines came as a result of three approved consent agreements between the Office of Enforcement Counsel (OEC) and the operators in question.
Mount Airy Fined for Underage Gambling
Mount Airy was fined $160,000 over three instances of underage gambling involving an 18-year-old male, an 11-year-old female, and two girls aged 13, all of whom gambled at slot machines inside the casino.
The 11-year-old female was with her parents while the two 13-year-old girls gambled with their mother.
The PGCB has described the underage gambling offense as "egregious and extreme", with board chair Denise Smyler saying the entire staff needs to be trained. The casino explained that the COVID-19 mask mandate made it more difficult to distinguish whether or not a person is underage.
Mount Airy received an additional fine of $100,825 for failing to submit 32 corporate or individual renewal applications by the mandated deadlines, which is in breach of one of its license conditions.
In the third approved consent agreement, a $20,000 fine was imposed against Pilot Travel Center and PFJ Southeast over its failure to advise the regulator of a change in control of its license concerning its VGT establishments and to obtain a license for the principal owner.
William Hill Faces $100K Fine for System Failure
Meanwhile, in Nevada, William Hill, now owned by Caesars Entertainment Inc., is facing a $100,000 fine stemming from a complaint filed against the company by the Nevada Gaming Control Board (NGCB) back in August.
The complaint relates to an alleged unresolved system failure in William Hill's CBS Race and Sports Book mobile wagering platform which affected over 50,000 bettors.
The glitch, which resulted in duplicate wagers on certain sports bets, allegedly went on for several years and was not reported to the NGCB. The problem only came to light in September 2021 when officials spoke to a William Hill customer who had a dispute with the company.
William Hill accepted the $100,000 fine as part of a settlement agreement which is likely to be formally approved by the Nevada Gaming Commission on September 22.
About the Author