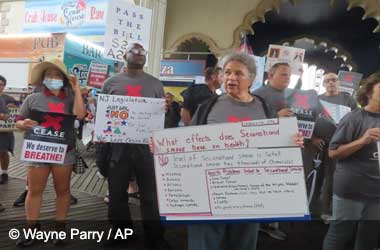 Summary
The protest took place during a major industry conference.
Casino workers and players want to see smoking banned in Atlantic City casinos.
Lawmakers have yet to act on a bill that would ban the activity.
A major casino industry conference is underway in Atlantic City, with proponents of a smoking ban coming onsite to protest. Around 100 people stood on a walkway at the Hard Rock Casino Atlantic City to show their displeasure on the topic of smoking.
A smoking ban has been discussed for quite some time in the region with a bill to ban the activity on the table. However, legislators will not make a move to approve the measure.
Take Action Now to Ban Smoking
The individuals attending the protest want to see lawmakers and Governor Phil Murphy push for the bill to ban smoking to move forward. The bill already has the governor's support along with lawmakers. However, it is sitting in state Legislature having not had a hearing in the Senate or Assembly.
A similar measure was unable to move forward last year as well. The patrons and employees of the many casinos in the area want to see a change. The East Coast Gaming Congress was supposed to host a panel discussing casino smoking but it did not take place.
Resorts Casino President Mark Giannantonio was supposed to be on hand and did not show up, so the panel was dropped. Giannantonio was recently named the president of the Casino Association of New Jersey. The trade association remains against a smoking ban.
Proponents of the ban feel that the trade association has no logical argument and need to bend to the will of those who visit and work at the venues.
Will Casinos Lose Money?
The main argument of NJ casinos and the trade association when it comes to a smoking ban is money. Those who are against the ban feel that the casinos will lose money because patrons won't visit if they cannot smoke.
Proponents argue that when COVID-19 began and a temporary smoking ban was in place, the casinos were just fine. Those for the ban feel that patrons will visit anyway. Casinos could also create outdoor areas so visitors could step outside to have a smoke.
Other states have seen casinos institute smoking bans and it has worked out fine. During the conference, the CEO of Greenwood Racing, Eric Hausler, was asked about being smoke-free. The company owns the Parx Casino which no longer offers smoking. So far, the casino has been successful in its operations.
Proponents are hopeful that the success of Parx and other casinos will be enough to spur a change in Atlantic City.
About the Author