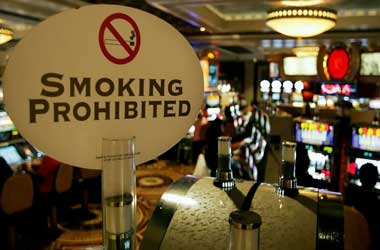 Summary
Officials of the casino sent letters to employees ahead of the ban.
Casinos in Pennsylvania continue to earn solid revenues despite the smoking ban.
Atlantic City casinos may lose out on their fight to stop a smoking ban in New Jersey due to Pennsylvania casino performance.
Rivers Casino Philadelphia is now the second casino in the region to permanently ban indoor smoking.
Parx Casino was the first, having done so last year. For Rivers, employees were notified early of the change in a letter by the casino's vice president of operations. The change marks the third casino in the state that has decided to no longer allow smoking inside the gaming venues.
Details of the Change
With indoor smoking no longer allowed, the Rivers Casino had to decide where it would allow guests to smoke if they wanted to. As of now, the casino plans to convert Jack's Patio to an outdoor smoking patio. The space will be open during bar hours, which ranges from 12 pm to 10 pm Sunday to Thursday and 12 pm to 2 am on Friday and Saturday. The patio will be open based on weather conditions.
Smoking is no longer allowed within any area of the casino indoors. If the patio is closed, guests can choose to smoke in the existing outdoor locations that are offered at the front of the casino in the North and South Entrance. Limited seating is on offer and the space will open on a first come, first serve basis.
Will Atlantic City Casinos be Affected?
Now that three casinos in neighboring Pennsylvania no longer allow smoking, will casinos in Atlantic City be affected? Some say yes, including the president and CEO of Americans for Nonsmokers' Rights, Cynthia Hallett.
Hallett commented that it is becoming harder for Atlantic City casinos to defend indoor smoking as more neighboring casinos decide to ban the activity. Rivers Casino Philly, Parx Casino, and venues in other states like nearby Delaware, Maryland, and Connecticut all have bans in place when it comes to indoor smoking.
The CEO stated that it is past time that Atlantic City casinos put a smoking ban in place. It will be interesting to see if this new development has any sway on lawmakers and how Atlantic City moves forward with potential smoking bans.
A major sticking point in New Jersey is the potential to lose revenues though the ban has support from various unions. Studies have shown that losses might be seen by operators, but Pennsylvania casinos show the opposite. Venues have been able to earn record high revenues, including already surpassing figures from 2019. This clearly shows that smoking is not needed for a casino to be successful.
CEO and President of the American Gaming Association, Bill Miller, agrees, stating that casinos have gone smoke free in the US and have done so without any detrimental effect to their operations.
About the Author