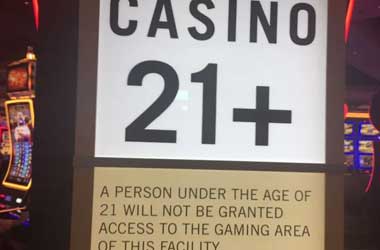 Commission staff members must complete a review of underage gambling issues.
Proposed changes will be brought to the Commission in December.
More signs and ID check points may be added.
Across the United States, players are not allowed on the casino gaming floor unless they are 21 or older. That doesn't stop young people from trying and when someone slips the cracks, the casino pays the price in fines.
In South Dakota, the Commission on Gaming wants to see its underage gambling issue reviewed to determine if any rule changes are needed.
Review and Possible Changes Coming Soon
During a meeting yesterday, the Commission told staff members that they must review the underage rules and incidents of young people reaching the casino floor. Proposals for changes will be heard during the December 14 meeting.
The Commission also wants to know what changes casinos have made in the past few months to help with the issues. Have more signs been added to alert of the age limit? Are more employees at ID checkpoints?
During the recent meeting, the issue of loitering came up. Commission executive secretary Susan Christian said that there is an issue with the anti-loitering rule that is causing problems between the agents in the office and casinos. What one person might consider loitering might mean something else to another individual.
Christian also feels that an old rule from 1998 could be updated. This rule allows for remote monitoring of gambling areas. Back then, casinos had only three gambling rooms and 90 slot machines. Now there are more rooms and machines and sometimes, more than one building is used to offer services.
Should Age-Enforcement Training be Provided?
Commissioner Harry Christianson suggested that age-enforcement training would be good for employees. This type of training is utilized in the alcohol industry and could be used for casinos as well. The commissioner even said that they could enforce a rule where the training is a condition of licensing.
Deadwood casinos have around 1,400 with support licensing and then a few hundred more have higher-level licenses. The Deadwood police department offers a free ID-enforcement class that employees can take advantage of. Over 200 people are ready to take the class next month.
All of the commissioners seem to be on the same page that something needs to be done. What changes will occur will remain unseen until the review takes place in December. It will be interesting to see what suggestions are made and if the Commission decides to take up any of the proposals. Is there something that can be done to stop young people from entering the casino floor?
About the Author