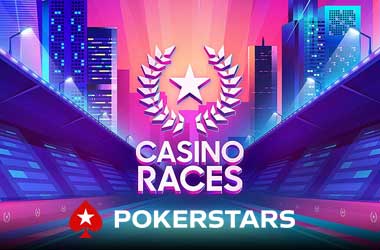 PokerStars players in the U.S continue to be pampered with a set of lavish bonuses and promotions in August. This time, the operator is giving away prizes via Casino Race Leaderboards running throughout August across its three US markets – New Jersey, Pennsylvania and Michigan.
There is $210,000 in total prizes up for grabs, $35,000 to be awarded in NJ, and $87,500 to be given away in PA and MI.
The promotion kicked off on August 1, but players still have plenty of chances to take a shot at prizes with new races running on a daily basis between now and August 22.
Players in PA and MI can win a share of $1,000 in daily prize pool from Sunday through Thursday, while $500 is on offer for NJ players during the same period. The prizes go higher during Fridays and Saturdays, with $2,500 and $1,000 up for grabs respectively during those days.
The biggest prizes will be awarded from August 23-30, via the Main Event Leaderboards. NJ players will compete for $4,000 in top prize, while $10,000 is up for grabs in both PA and MI. Overall, PokerStars is awarding a total of $120,000 in Main Event leaderboard prizes – $20K in NJ, and $50K in PA and MI.
How to Qualify
To get involved, players need to check the Race URL indicated on the PokerStars website. They should then opt-in to the Race of the Day and begin playing. Players will earn points according to the featured slot games that they play during the day. Each race has a different selection of games, and players are required to opt-in for each individual day that they'd like to play.
Players can only earn points from winning wagers on featured games. This means that losing wagers are not covered, as well as wins on slots that are not included in the day's featured games.
As to the calculation of points, the determining factor is the size of a win relative to the wager amount, instead of the overall value of the winnings. For every 1% win, players get 1 point. So if you're able to win $100 on a $50 wager, it is equivalent to a 100% win, and hence you'll receive 100 points.
The method used for calculating points gives all players an equal shot at getting to the top of the leaderboard. So even if you have a smaller bankroll, you can very much climb to the top of the race as fast as those with bigger funds.
Check out the real money casino Pokerstars website for more details.
About the Author