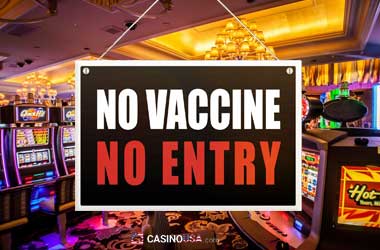 Most Las Vegas casinos are not carrying out any mandatory COVID-19 vaccination tests at their premises. Masks continue to be optional at the majority of casinos and business is slowly returning to normal.
However a recent outbreak of COVID-19 cases has once again raised the issue of whether casino operators need to change their policies and make it mandatory for their patrons to vaccinate themselves in order to play at their casinos.
Harrah's New Orleans Hotel & Casino has now become the first casino in the United States to make it mandatory for all patrons to produce a COVID-19 vaccination certificate or provide a negative COVID-19 test result in order to gain access to their premises. Harrah's New Orleans which is owned by Caesars was forced to make this decision after Mayor LaToya Cantrell passed a new mandate this week.
Mayor LaToya Cantrell has rolled out a detailed indoor mandate that requires all indoor venues which include restaurants, bars, casinos and racetracks to permit only vaccinated individuals or those with a negative COVID-19 test into their establishments from Aug 16. This move comes as the number of COVID-19 cases continues to grow in New Orleans and Louisiana.
WWLTV
The move is expected to hurt the flow of traffic to Harrah's New Orleans Hotel & Casino and will result in a decline in overall revenues. Caesars has so far not made any statement regarding the new mandate in New Orleans and the Louisiana Gaming Control Board has also stayed silent on the matter.
New York and San Francisco have already passed similar mandates and Los Angeles is in the process of doing so. This concedes with the push to get Americans to take the COVID-19 vaccine.
Will Vegas Casinos Roll Out A Similar Policy?
The Las Vegas casino industry has already lost billions of dollars due to the COVID-19 shutdown and are keen on making up for lost revenue. Most casino operators prefer not to roll out the mandatory vaccination or negative COVID-19 test mandate but it will likely depend on what the Nevada government decides in the end.
Concert organizer AEG Presents which is running shows at Resorts World Las Vegas, has informed all concert goes that they will need to be vaccinated to attend shows after October 1. If Nevada does decide to follow in the footsteps of New Orleans, it will certainly have an impact on Las Vegas's gross gaming revenues.
About the Author