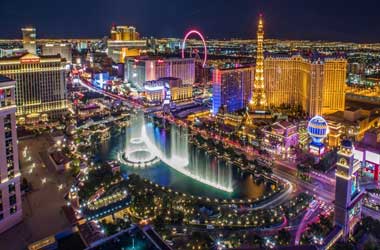 The COVID-19 pandemic brought casinos operations in Nevada to a close in Sep 2020 and cost gaming operators billions of dollars in losses.
Gaming analysts predicted that it would take years for the Vegas casino industry to recover from the damage done by COVID and the extended lockdown.
It looks like things are a lot better for casino operators in Nevada based on the latest report from the Nevada Gaming Control Board (NGCB). The NGCB reported that gross gaming revenues for Nevada in September surged past $1 billion for the 7th consecutive month which is a big positive for the gaming industry. The third quarter of 2021 saw a total of $3.7 billion in combined revenues come in.
When you look further into the numbers, casinos in Nevada brought in a total of $1.15 billion in Sep 21 which is a 41 percent increase when compared to the same period in 2020 as Nevada casinos brought in $820.9 million. Sep 2021 has been a very good month for Nevada casinos as also showed a 9.4 percent increase when compared to Sep 2019.
KTNV Channel 13 Las Vegas
Clark County had an incredible month in Sep bringing in over $1 billion for the fifth time in six months. Not counting 2021, the only other time Clark County recorded gaming revenues of over $1 billion was back in Oct 2007. Casinos on the Las Vegas strip also had a great time in Sep as they brought in a combined $640.6 million which is an 80.6 percent increase when compared to Sep 2020 when they brought in $354.6 million.
Casinos in downtown Vegas brought in $73 million in Sep 2021 which was a 41 percent increase as they brought in $51.7 million in Sep 2020.
Things Slowly Returning To Normal
Casino gaming numbers are up and so are overall tourist numbers in Las Vegas. Stats show that Vegas saw 2.93 million tourists come in during September which was a slight dip of 2.1 percent when compared to August when 2.99 million tourists came in.
Now that the White House has confirmed that the international travel ban will be lifted on Nov 8, we can expect tourist numbers to go up significantly in Vegas which should also correspond with an increase in overall gaming revenues in Vegas and the Nevada gaming industry as a whole.
About the Author