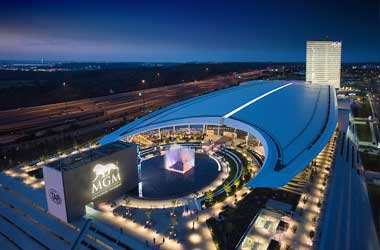 MGM National Harbor opened last year in Prince George's County in Maryland and gamblers in Maryland and neighboring Washington D.C. were very eager to visit the casino property and see what it has to offer.
Now that a year has passed since its grand opening, the $1.4 million MGM National Harbor has lived up to its high expectations set and has been the main reason for the economic rise in the county. Reports have come in stating that the casino resort has quickly become the most profitable casino in Maryland.
The casino has created thousands of jobs in the state and has been responsible for bringing in 6 million visitors and returning millions to the local economy.
ABC 2 News – WMAR
Local county fiscal records show that the county is expecting to receive around $32 million from the MGM National Harbor. Plans for the money include $7 million for neighborhoods within three miles of the casino, $3 million for improvements to route 210 (the road which directly leads to MGM National Harbor), $1.6 million to the local school system for classroom and technology upgrades, and $500,000 to the local police department.
MGM National Harbor has also been responsible for boosting the overall gaming industry in the state and taken it to all time high levels. Revenue reports have shown that for the first time in state history, casino revenue has surpassed state lotto revenue, which experts claim as a testament to the industry's growth.
The growth in casino revenue has also contributed to the state's educational trust fund. Each of Maryland's casinos dedicates a portion of their revenue to the trust fund, and the numbers which have been donated since MGM's opening have been outstanding. In November, the six Maryand casinos combined totaled gambling revenue hit $130.5 million and $1.2 million went to the state's general fund, while $38.3 million has gone to the trust fund.
The only area in where the MGM may not be hitting expectations in is regards to its labor force. While the casino has created nearly 4,000 jobs for the local community, many are contending that these jobs are not as lucrative as their competitors.
According to local union leaders many of the jobs at the MGM are classified as part-time, meaning that these workers do not receive healthcare coverage and other benefits they would if they were considered full time. The union is also contending that the MGM does not pay as well as their competitors, for example a starting cleaners position at the MGM currently makes $14.25 an hour, which is a full $5 less an hour than a cleaner would make at the Gaylord National Resort and Convention Center.
About the Author