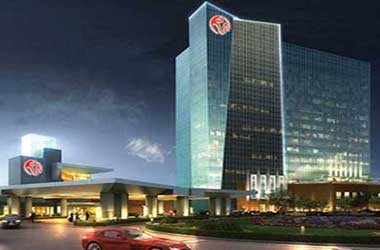 Resorts World Catskills, the fourth and last scheduled Vegas-style casino set to open in upstate New York, is on track for its March 2018 opening. Resorts World Catskills is expected to be the biggest and fanciest non-Indian, nation-owned casino resort to be constructed in the area.
The casino resort is being developed on the former site of the Borscht Belt-era resort Concord Hotel. Resorts World Catskills will be an 18-storey casino and hotel development that will feature 100,000 square feet of gaming space.
The casino area will house a 19-table poker room, private gaming salons with exclusive butler service, 134 gaming tables and more than 2,000 state-of-the-art slot machines.
CBS New York
Resorts World Catskills announced towards the end of November, that they are on track for their first quarter 2018 opening. The company confirmed that they were able to finish installing 2,157 slot machines onto the gaming floor.
In a statement, Charles A. Degliomini, executive vice president of government affairs and corporate communications of Empire Resorts, Inc, said
The arrival of these first pieces of gaming equipment shows that the casino resort's construction is on target for our March 1 opening. Seeing these machines installed gives us a glimpse of just how fabulous our gaming floor will look on opening day.
Apart from the usual Class III games, the new slot machines will offer 3D and 4D experience for players. One of these is the Sphinx 4D, which is able to offer a multi-sensory play experiences by reading player gestures and mid-air haptic movements. Some slot machines will also feature full 4K displays. Some of the other popular slot machine games to be offered include the Wheel of Fortune, Pac Man, The Ellen DeGeneres Show, Simpsons and Elvis.
Degliomini also noted that their Anchorman slot machines will be the first in the Northeast. Apart from its massive casino floor, Resorts World Catskills will offer 332 luxury suites, an event room that can host up to 2,000, an 18-hole golf course, multiple bars and restaurants including a 24-hour café and a high-end Italian steakhouse.
According to Ron Ochrym, the State Gaming Commission's acting executive director, construction is almost complete, with the decorations and cosmetic additions remaining. The casino expects to hire close to 1,500 employees and confirmed that it has already started training dealers.
When Resorts World Catskills opens in March 2018, it will become the fourth casino to open in New York joining the del Lago Resort & Casino located near Waterloo in the Finger Lakes, Tioga Downs in Nichols, and Rivers Casino & Resort in Schenectady.
About the Author