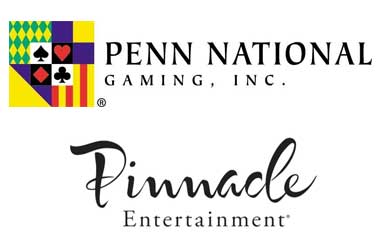 Penn National Gaming Inc has announced that it is set to acquire Pinnacle Entertainment Inc for $2.8 billion in what will be a cash-and-stock deal.
Once the acquisition of Pinnacle is completed, Penn National will become the leading U.S. regional gaming operator in terms of overall properties.
The deal which had been in the works since October, has been approved by the boards of both companies and is expected to be closed during the second half of 2018. The strategic acquisition will help Penn National create an expanded gaming platform.
The acquisition is the largest gaming deal in America since 2013 and is expected to be finalized subject to regulatory approvals.
Currently Pinnacle owns and runs 16 gaming and entertainment properties in 11 jurisdictions all across the country. Penn National will not acquire all of these properties as the company has confirmed that it will be selling four of these properties to Boyd Gaming Corp for $575 million.
The properties that will be acquired by Boyd Gaming are based in Indiana, Missouri and Ohio. While there were rumors of the potential Penn National and Pinnacle Entertainment deal floating around, there was no information on Boyd Gaming playing a part in the acquisition. Once the acquisition is completed, Penn National will operate a combined 41 properties that will be responsible for 53,500 slots, 1,300 table games, 8,300 hotel rooms and will employ more than 35,000 employees. Boyd Gaming will own 28 different properties in over nine states once the acquisition is completed. Boyd Gaming's properties will have a total of 38,000 slot machines, 900 table games and 11,000 hotel rooms.
In a statement, Keith Foley, Senior Vice President for Moody's said
The combination of Penn and Pinnacle, two large regional gaming companies in their own right, creates a regional gaming behemoth with a tremendous amount of geographic diversity, cross-selling opportunities, and potential operating synergies that will favorably impact margins
Penn National Chief Executive Timothy Wilmott has gone on record saying that the deal was a very complex four party transaction and that Penn National had to take a lot of time to see what was needed to handle regulatory approval at both the state and federal level. Penn National said the deal will bring in $100 million in annual synergies stemming from the reduction of redundant corporate expenses and improved efficiencies in property.
About the Author