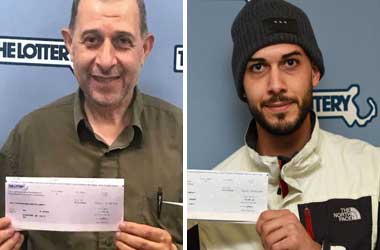 One of the reasons the casino industry gets a bad rap is because anti-gambling opponents believe that criminals use casinos to wash their dirty money and get away with it easily.
Gaming regulators across the world have done their best to tighten anti-money laundering regulations to prevent this from happening but there are still many loopholes.
A recent case in Massachusetts has once again brought the spotlight to money laundering via gambling losses.
This is how the scam worked.
Ali Jaafar came across as a very lucky man in Watertown. He was officially the top lottery casher in 2019 in all of Massachusetts. His sons also appeared to be riding a wave of luck as the family as a whole won more than 13,000 lottery tickets between 2011 and 2019 and took home a combined $20 million plus in lottery winnings.
WCVB Channel 5 Boston
The lottery is based on luck and not skill. So it appeared strange that Ali Jaafar and his family were winning lottery tickets with a rather consistent rate. When the authorities looked into this unusual occurrence they realized that the family was scamming the state lottery.
Ali Jaafar would look for lottery winners in the state and then make a deal with them. He would buy their lottery ticket and keep their names off the record in an effort to save them on their taxes. He would cash the winning lottery ticket in his name or one of his son's name, take a cut and give the rest of the cash to the original lottery winner.
Ali Jaafar had no problem reporting his lottery winnings to the tax office because he offset a lot of those winnings by declaring it as gambling losses. He used the gambling industry to wash this money and build a steady and lucrative stream of income for nearly a decade.
The courts have charged Ali Jaafar and his family with lottery and tax fraud. There is no indication if the court will go after the real lottery winners or if there is any ground for them to file charges against them.
Casinos Must Tighten AML Laws
This lottery and tax fraud scheme is yet another reminder for both land based and real money online casinos across the state to tighten their anti-money laundering laws. Rigid KYC verification procedures and reporting of high value deposits are some of the main security protocols that gaming operators have to follow rigidly to discourage criminals from using the casino for money laundering.
About the Author