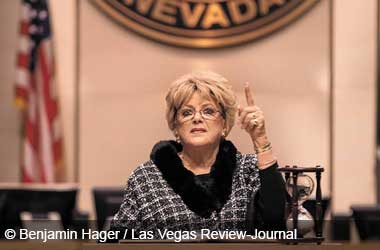 After six weeks of community quarantines designed to quell the outbreak of the COVID-19 coronavirus that has killed tens of thousands throughout the world, the city of Las Vegas appears to be positioning itself to re-open for business. This is based on the recent statements made by Las Vegas Mayor Carolyn Goodman.
In a social media post as well as in an interview on CNN, Mayor Goodman indicated that Las Vegas would not be able to survive if it does not re-open soon, suggesting that Las Vegas should re-open and allow its residents to become a control group for the rest of the world.
Essentially, what Mayor Goodman said was that Las Vegas will be destroyed economically if it does not re-open soon. She wants the city to re-open now to have a fighting chance to survive. The resulting victims of such a plan would then be used as a control group, to compare to the infection and fatality rates of other places who are following more conventional social distancing guidelines.
CNN
Mayor Goodman appears to be planning on re-opening Las Vegas casinos immediately, despite the suspension of the 2020 World Series of Poker (WSOP). Nearly a million Las Vegas residents are currently furloughed; while the city relies largely on tourists for revenues, some believe that the dangers of accepting tourists willing to brave COVID-19 for some gambling action is riskier than any economic benefit.
Mayor Goodman's gesture may be taken as a testament to the tenacity of Las Vegas residents, but many still feel trepidation and fear at being the first in the country to be re-exposed to COVID-19 could cause a potential outbreak that is likely to overwhelm the city's hospital system.
Gamblers Not Keen On Re-Opening Vegas Casinos
The plan is highly controversial. The U.S. appears to be polarized between people who believe that COVID-19 is a serious threat that must be eradicated before any return to normal life, while others believe it is a trivial illness.
Some of Las Vegas' most famous poker player residents have registered their disapproval at Mayor Goodman's apparent disregard for the well-being of Las Vegas residents.
Daniel Negreanu called Mayor Goodman's national TV appearance embarrassing, while Joey Ingram remarked that many residents were driving around the Strip, despite very few businesses being open. Doug Polk has tweeted that he is seeking ways to recall Mayor Goodman.
I have spent the last couple of days researching everything required to create a recall for the mayor of Las Vegas.

I still need 1 or 2 people who voted in the 2019 election for Las Vegas Mayor.

If you live in Las Vegas or know someone who does, please share this with them.

— Doug Polk (@DougPolkVids) April 24, 2020
While Mayor Goodman's push to re-open is currently taking some heat, many Americans are on her side, compelled by rising unemployment as well as insufficient federal support
About the Author