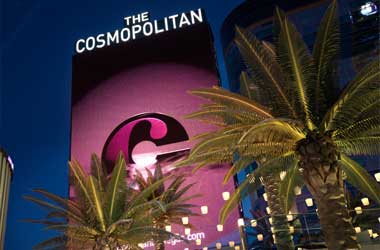 The Cosmopolitan of Las Vegas has launched an exclusive luxury hotel facility with its 21 Boulevard Penthouse suites which are located in the top four floors of its complex which had been vacant for the last few years.
The 21 Boulevard Penthouse suites are proposed to be positioned as a luxury hotspot by owner's the Blackstone Group as a part of the five-year capital investment plan. The key target for these rooms are whales or high rollers who are known for spending millions on the gaming floors.
The penthouse suites will offers stunning views of the Bellagio fountains as well as the Las Vegas Strip. Other perks include availability of $56,000 bottles of Louis XIII Black Pearl cognac, butler service, curated welcome gifts, chauffeured airport transfers and an on-demand culinary service.
The Cosmopolitan of Las Vegas
All this is available for high rollers who are willing to place a buy-in of $1 million at the Reserve, which is the Cosmopolitan's high stakes VIP lounge. According to travel specialist Jack Ezon of Ovation Travel, the suites are likely to be the most expensive hotel rooms in the world.
The $1 million price tag is remarkable even for Vegas where hotel rooms routinely have eye-popping prices. MGM's Mirage Villas are available for $20,000 per night while the Nobu Hotel available inside Caesars Palace works out to around $35,000 a night.
The casino aims to attract big time spenders who have so far had to stay elsewhere. Brian Benowitz, senior vice president of casino operation noted that players tend to spend more if they are staying in the same location.
Some of the luxury Las Vegas hotels have been making exceptions to their rules of late and allowing patrons who are not VIP gamblers access to their premier suites and villas by relaxing the requirements.
In a statement Melissa Bailey, director of Sky Suites at MGM's Aria said
Our guests were telling us that even if they weren't in the casino, they wanted a villa experience, so we opened it up to anyone, and people love it.
Bailey further pointed out such relaxation helped the casino gain revenue during midweek drop-offs when high rollers are not playing. The shift in stance is not surprising. According to data from the University of Nevada Las Vegas Center for Gaming Research, casino revenues have been declining consistently since 1984. Gaming revenue has moved from 59 percent to 36 percent while hotel revenue has gone from 16 percent to 25 percent.
Those interested in staying at the new Boulevard suites will however need to prove their net worth, submit documents with the Gambling Commission and clear security protocols.
About the Author