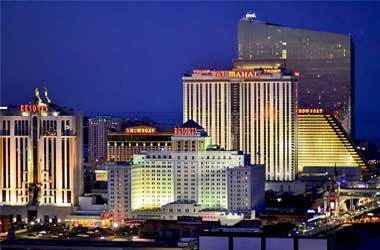 Atlantic City casinos experienced a revenue boost of 4.3% to cross $229 million in May. If the Trump Taj Mahal, which is no longer opened for business was not considered, the seven other casinos in Atlantic City could have reported a 12% revenue increase in May 2017.
The New Jersey Division of Gaming Enforcement (NJDGE) released figures on Wednesday to show that online gambling revenue in New Jersey is also steadily rising. In May, online gambling revenue increased by over 27% to $21 million, slightly below the record established in April.
The NJDGE's figures show that the Golden Nugget is generating the most revenue. The only online casino that experienced a revenue plunge was Bally's and even then, it was only a small fall of 0.3% to $18.1 million.
CBS Philly
These figures clearly show that the casino industry in Atlantic City is slowly beginning to turnaround as the casino industry has experienced the closure of 5 casinos and the loss of 11,000 jobs in the last few years.
In a statement, New Jersey Casino Control Commission Chairman Matt Levinson said:
That's a great start to the summer. With all of the events planned around the city for the summer, I anticipate we will see casino revenues continue to increase.
NJDGE Director David Rebuck agrees with him and says:
With a solid performance to date and now on the cusp of the busy summer season, the Atlantic City casino industry seems well positioned to capitalize on these positive trends.
As usual, the market leader in Atlantic City is once again the Borgata, which generated $71.8 million in revenue this May, which is a 10.6% revenue rise from last year. Tropicana Casino took the second place, having generated $32.8 million in revenue, which is a 21.5% revenue rise from last year. Harrah's occupies the third place, having generated 0.2% more revenue to $29.5 million.
The biggest revenue increase of 23.6% can be seen at Caesars Casino ($29.4 million). The revenue rise at the Golden Nugget ($24.5 million) is 17% while the revenue rise at Resorts ($15.3 million) is 9.8%.
In the online gambling sector, the Golden Nugget stands first, having brought in $5.9 million. Both Tropicana and Resorts Digital have brought in $4 million each while Caesars Interactive generated revenue of $3.6 million. The Borgata which had been the industry leader in its initial years, brought in close to $3.5 million. In May, the casino industry generated $144 million through slots which was a decrease of 3.6%. Table games on the other hand brought in $64.3 million which was an increase of 19.2%.
About the Author