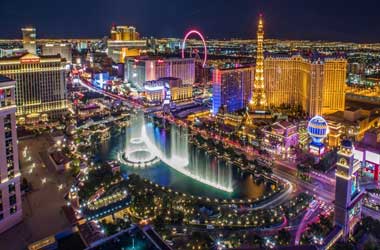 Las Vegas, Nevada is the gaming capital in the United States and its slew of casino resorts tend to attract players from all parts of the country and around the world. There is always a huge influx of players at Las Vegas casinos irrespective of what time of the day or night it is.
COVID-19 changed all that as Nevada shutdown all of its casino resorts. Now, Las Vegas casino operators are preparing to reopen and are working on stringent processes to comply with state gaming regulations regarding COVID-19 and to also ensure its patrons are assured of safety.
The Nevada Gaming Control Board's reopening guidelines already approved by the Nevada Gaming Commission state that gaming areas' occupancies will be halved, with gaming machines separated by stools and chairs. Guests gathering in groups will also be banned. Dealers at all games will always have a container of hand sanitizer to offer guests anytime they wish.
Las Vegas casinos are okay with these guidelines as they want to open for business sooner rather than later. However, they are concerned about whether patrons will brave the risks of COVID-19 and turn up at their casinos. There is a lot of speculation going on right now but only when the casinos open their doors to the public will one know for certain.
Las Vegas Launches New Tourism Campaign
In anticipation of the reopening of casinos and other gaming properties in Las Vegas, the city's tourism authorities launched a new ad campaign on Monday, promising a "new Vegas for the new reality" The Las Vegas Convention and Visitors Authority (LVCVA) teamed up with an advertising partner to create the 30 second ad.
Visit Las Vegas
While tourism authorities are already working on convincing guests to visit, Nevada continues to see its COVID-19 casesrise . As of May 18, there are 6,906 Nevadans who tested positive for the coronavirus, which is an increase of 49 cases from the previous day. The rise is relatively low compared to what Nevada has seen in the last two months; this is the lowest increase since March 24, which added 43 new cases to the tally.
However, many are still worried about reopening casinos given the fast spread of COVID-19.
Some have raised concerns regarding the number of tests Nevada has done, which has decreased to its lowest level in several weeks. Compared to the 6,500 tests performed one day before, the May 18 results were derived from tests conducted on 1,140 Nevadans.