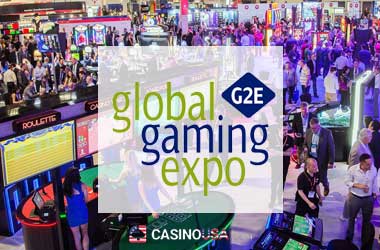 Game developers from all over the world are showcasing their upcoming products and services at the Global Gaming Expo (G2E) which is taking place in Las Vegas from October 4 to 7. The G2E conference has always been a great place to monitor what's in store for the gaming industry in the next couple of years.
Slots continue to be the most played games at online casinos and are responsible for bringing in the bulk of online gaming revenues.
This is one reason why gaming developers have always invested heavily to innovate and come out with new slots that incorporate the latest technology.
Table games have pretty much stayed the same over the years and have seen very little innovation. This is because you need a lot more innovation and investment when it comes to upgrading and innovating with the table game format. While slot machines are played by single players, table game action involves multiple players and a dealer which requires developers to make a bigger commitment.
It appears that gaming developers are now going to pay more attention to table games in the future and will look to bring in more innovation and technology going forward.
What To Expect In The Future
Interblock Gaming which is headquartered in Las Vegas showcased some an innovative new gaming product that brings together live dealers, automated table games and electronic games. The live dealer gives out the cards and players will be able to take part in the game via affiliated gaming stations. This new Pulse Arena stadium product also allows for an automated dealer to dish out the cards.
The twist on the automated version is that you have dealertainers who not only dish out the cards but also dance or sing. There are a lot of different light settings in the background to give players the feel of playing at a real casino floor in Vegas.
Interblock is also releasing a new craps table game that allows players to enjoy craps at individual machines and then show up at the live table when it is their turn to roll the dice.
Scientific Games Corp. is also set to introduce four different variants of its Quartz electronic table games. The four versions are Dragon Tail Baccarat, Stadium Craps, Texas Hold'em Roulette X and Stadium Ultimate.
Swedish developer Tangiamo Touch are coming out with new electronic roulette tables that incorporate metal sensors. Online table game players can look forward to exciting new releases in 2022 and beyond.
About the Author