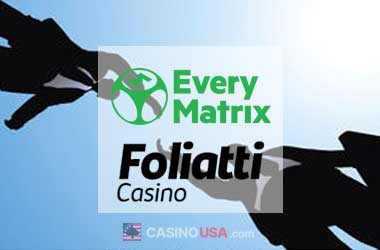 The Latin American gambling market has a lot of potential and gaming operators are very keen to enter the market and get a piece of the action. The Mexico betting market is one of the more lucrative gaming markets in Latin America which is one of the reasons why EveryMatrix is happy to finally enter Mexico.
EveryMatrix, an online gaming software provider recently made its entry into Mexico by partnering with Group Foliatti. The land-based casino operator will now serve as the local partner for EveryMatrix in Mexico.
Group Folliati has been active in the Mexican gambling market for a decade now. Their main focus is on brick-and-mortar casinos and they have been very successful. They have 10 establishments under their management and have a presence in several states.
EveryMatrix
With the help of EveryMatrix, the Mexican operator plans to launch its first online project, the Foliatti Casino. The idea is to use the software provider's turnkey platform to create a strong real money online gaming offering in the market. Thanks to the new partnership, the entire EveryMatrix catalog is available to Group Folliati.
The EveryMatrix platform will allow for easy integration, a robust sportsbook, bonus systems, and a scalable management platform to make it easy to run the entire gaming platform in Mexico.
EveryMatrix Expanding Into Americas
This recent deal is just one of the latest that EveryMatrix has made to expand its presence into the Americas. Erik Nyman, President for EveryMatrix Americas said they were very happy with their new partnership. Given that Group Folliati is one of the biggest land-based casino operators in Mexico, this deal will give them an edge as they enter this new market.
The Group Folliati brand will allow the company to demonstrate how robust its gambling platform is and ensure that Mexican players have a very competitive gaming platform. Andres Madrigal, Director at Group Foliatti echoed a similar view and said that this will turn out to be a profitable partnership for both sides.
EveryMatrix continues to take strategic steps to expand its brand into the Americas and establish itself as one of the upcoming players in this market. They recently opened Armadillo Studios which is their first gaming studio to open in the United States. The focus of this new studio is to produce games specifically for the American market. EveryMatrix runs its U.S operations from its head office in Miami, Florida.
About the Author