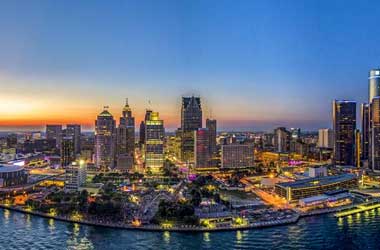 Summary
Detroit's commercial casinos are slowly recovering from COVID-19.
March 2022 numbers are still lower than 2019 (pre-COVID) by around $18 million.
Table and slot game numbers jumped by around 9%.
When the COVID-19 pandemic began in March 2020, casinos in Detroit, Michigan and around the United States were shut down. After reopening, casinos were hit with a series of regulations and protocols, with less than normal earnings coming in each month. While the US is still struggling with the virus, casinos and other businesses are rebounding. In Michigan, the three commercial casinos in Detroit have seen solid revenue earnings, continuing an increase from month to month.
Casinos in Detroit reported $122.86 million in March, easily beating the same month in 2021, when only $113.84 million was generated. The totals are still less than March 2019, before COVID hit, when more than $140 million was earned.
Slot and Table Game Earnings
When compared to March 2021, the Michigan Gaming Control Board revenue reports show table and slot game revenue are up by more than 9%. The increase is mainly attributed to MGM, which had a huge boost in gaming revenue by more than 29%. The casino brought in a whopping $55.9 million in March.
Following behind in second was MotorCity Casino, with $39.3 million. Unfortunately, for the property, this was a more than 6% decrease when compared to March of last year. Greektown came in third, with a slight increase of 0.4% with $25.7 million in earnings.
Of the money generated from casino operations, the three venues paid the state almost $10 million in taxes. Over $14 million was paid to Detroit.
What About Sports Betting?
Detroit casinos also offer sports betting services to patrons, and in March, the qualified adjusted gross receipts showed $1.93 million in earnings. This was a decrease from March 2021 by more than $1 million. The overall handle was just over $26 million, with a 7.3% hold.
MotorCity Casino earned the most with over $718,000 in earnings while Greektown followed close behind at $664,550. MGM actually comes out in third in this instance, bringing only $545,336. Year to date, the totals are a bit low, with Greektown under $1.3 million. MGM and MotorCity Casino both come in over $830,000.
Taxes paid from sports betting are low, with the state earning just over $72,000 while the city of Detroit earned just over $89,000. It is expected that the increase in overall revenue should continue throughout the year as Michigan's commercial casinos continue to work on COVID-19 recovery. It will be interesting to see if the upcoming months result in a boost in earnings or if the city will level out to a standard amount of earnings each month.
About the Author