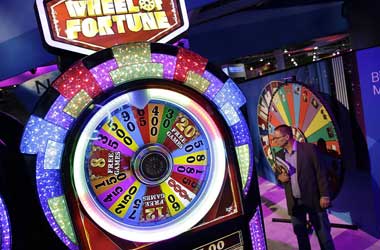 Summary
The new online casino will launch in New Jersey
The launch takes place during the gameshows 40th season.
It is unclear as to what role Wheel of Fortune will play aside from site theming.
One of the most popular game shows to ever hit the television airways is Wheel of Fortune. The show has been around for decades and is so popular that board games and slot machines have been patterned after it.
Now, we will soon see an online casino with the moniker as BetMGM, International Game Technology and Sony Pictures Television have recently signed a new partnership deal to create an online gaming site based on the show.
A New Milestone for Online Casino Gaming
In an industry first, Sony Pictures, IGT, and BetMGM will come together to create a one-of-a-kind online casino site. The production company plans to utilize the experience of the mobile casino gaming and software company to create a new site for the Garden state later on this year.
The trivia game show already has a large following and is featured in branded casino games and slots in venues in various states. There are 250 versions of the games offered across the US. Sony Pictures Television executive VP of game shows, Suzanne Prete, commented that the company is delighted to have created the new partnerships to launch the first Wheel of Fortune online casino.
As the show celebrates its 40th season this year, Wheel of Fortune will be able to offer players additional and new ways to play the game they love, said Prete. The online casino is sure to be a hit with older generations and players looking for something different in the already bustling online gaming market.
What to Expect from Wheel of Fortune Online Casino?
Even though the new site will launch later this year, there is little known about what the brand will provide players. We expect the site will be filled with Wheel of Fortune type games but also other titles by IGT.
BetMGM has plans to offer responsible gaming education as part of the casino offering via GameSense. The application was created by the British Columbia Lottery Corporation for MGM Resorts, the parent company of BetMGM for player safety.
It will be interesting to see just what the partners have in store for the Wheel of Fortune website. Will BetMGM offer Wheel of Fortune branded promotions such as ways to win an appearance on the show? We shall see in the future once the new online casino is up and running in New Jersey later on this year.
About the Author