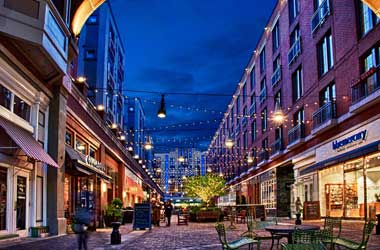 Summary
The Video Lottery Terminal Program boosts women and minority owned businesses via funding.
Half of funding goes to eligible county businesses while the remaining goes to targeted communities in Maryland.
The fund will focus on loan needs of small businesses.
In the state of Maryland, video lottery terminals are dotted throughout the state to offer a form of entertainment for residents and visitors. That is a special program in Maryland that provides struggling communities with funds as well as small businesses, minority and women owned businesses, with funding. It was just announced this week that despite not having any gambling venues, Montgomery County is the latest area that will begin receiving funds.
State Loan Program for Eligible Businesses
A state press release this week revealed that the Montgomery County Economic Development Corporation will act as the fund manager for the region. The group will receive a total of $1.5 million in funding initially.
This amount can go towards small businesses that qualify for funding as well as entities that are women or minority owned. The county is not home to any casinos, so the money is to be distributed differently. Fifty percent of the program funds will go to eligible businesses in the county such as those in Bethesda Row while the remaining amount will be geared towards targeted communities in Maryland.
Mike Gill, the Maryland Commerce Secretary, commented on the announcement, stating that small businesses are the economy backbone and expanding the reach of the program will ensure that the group is helping businesses that continue to push economic growth in the state.
Quality Loan Funding for Almost a Decade
In Maryland, the casinos slot games provide 1.5% of its revenues to the Video Lottery Terminal Program. Since the fund started in 2013, over 860 loans have been provided across the state equal to over $92 million. New allocations to managers of the fund are provided on an annual basis.
This past May, the state was able to receive over $73 million in tax payments. Close to $1.7 million was set aside for the small, women-owned, and minority business loans. Each casino has a targeted area where funds are allocated, plus additional targets are offered funds in areas where casinos are non-existent.
Right now, the Maryland Live! venue targets Anne Arundel County while Horseshoe Casino covers Baltimore City. Rocky Gap takes care of Allegany County while funds from Hollywood Casino Perryville target Cecil County. Ocean Downs covers Worcester County and National Harbor takes care of Prince George County.
As long as slot games continue to fare well in the state, the loan program will continue to have funds to help small businesses. It's as nice way for a portion of the gaming revenues to go back to host counties and other areas to benefits the local residents of Maryland.
About the Author