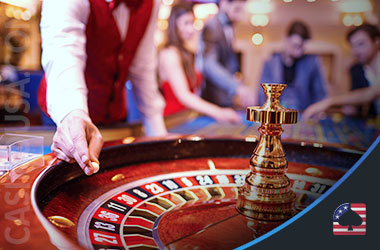 Playing live roulette from the comfort of your home has never been easier and more entertaining. Thanks to incredible technological advancements, live roulette becomes accessible to players worldwide with only a few clicks of a button.
The number of available online casinos offering live roulette games grows with each passing day, so looking for one is not a problem. However, finding a decent live roulette might take a while, especially if you're looking for low-limit ones. That's why we've decided to tackle the task and make your job easier than ever. 
Keep reading if you're interested in finding out the names of the top five best live roulette casinos with low limits. We promise you won't regret it.
Why Play Roulette in Low-Limit Casinos?
Although you might have your own reasons for playing roulette in low-limit casinos, we wanted to share our thoughts and insights, too. 
Real casino interaction — Choosing to play live roulette is the closest you'll get to a real casino interaction without actually visiting a land-based casino. Not only is it more convenient, but you also won't have to skip on communicating with other players or croupiers.
Various options — Gambling platforms that offer live roulette make sure to promote a wide range of games that cater to all players. You'll surely enjoy American and European variants and other miscellaneous titles.
Low-risk fun — Low-limit roulette allows you to have fun without the excess cost. Plus, you get to play for longer due to low buy-ins.
Spending control — Since you're playing low-limit roulette, you'll get a tighter grip on your spending habits. And if you play your cards right, you might even end the night with a heavier wallet.
Now, without further ado, let's explore the top five casinos with low-limit live roulette.
BetOnline

Whether you've been gambling for some time or you're a newbie, you've probably heard of BetOnline. This iGaming giant has been around for a long time and has earned its renowned reputation in the industry. You'll notice the impeccable and sleek design straightaway, along with the sports betting and table game section.
Luckily, BetOnline has a great live dealer section that caters to all types of players. On top of that, the site features different live casino promotions that can help newcomers start on the right foot.
We love that this casino gives players a chance to explore various live roulette games besides the American and European versions, like Vegas and Zoom roulette.
The lowest betting limit is set at $1, while the highest is $1,000, meaning BetOnline is a good fit for low-limit players and high rollers. We recommend starting low and increasing your betting limit as your confidence grows.
Read our BetOnline Review here.
Wild Casino

The action in Wild Casino is just what it sounds like — wild! If you're interested in starting right, we recommend giving this casino a chance.
Not only is this gambling platform renowned in the iGaming industry, but it also allows players to bet low.
Wild Casino is another operator with a clean and straightforward design that offers many varieties to gambling enthusiasts worldwide. This is an excellent casino for players who appreciate crypto payment methods, as Wild Casino provides plenty of them.
When it comes to live roulette, this platform does not disappoint. Wild Casino is home to several live roulette variants with low buy-ins. Players can indulge in Zoom and Common Draw roulette, aside from the standard variants like American and European roulette.
Depending on the game, you can bet as low as $1 and go up to $10,000. This leaves plenty of room for improvement in the long run.
Read our Wild Casino Review here.
BigSpin Casino

Don't let its name fool you, as BigSpin doesn't host only slots. This operator has a lot more to offer aside from slot titles and table games.
Once you open the website, you'll notice that this casino is all about fun due to its bright colors and happy characters. The casino also features numerous payment methods available to US users and a user-friendly platform.
However, you're probably most interested in the live dealer section of the site. Although there are plenty of blackjack and baccarat options, the low-limit roulette takes the cake. The site offers only two roulette variants — American and European, but it's enough to keep any player satisfied. That's primarily due to its low limits, as you can start as low as $0.50, while the maximum is set at $50.
BigSpin Casino is an excellent choice for online gamblers who want to combine social interaction with top-tier visual stimulation in mere seconds.
MyBookie

If you want to combine sports betting and live roulette, you won't find a better option than MyBookie. You can rely on this bookie to keep you on the right path during your gambling journey.
Upon registering, you'll notice that this casino is all about awarding players and retaining them. New users can look forward to a couple of bonus options, while the site also organizes tournaments for regulars.
When it comes to roulette, MyBookie offers a couple of options, including American and European variants. However, what truly matters is the low buy-in of only 50 cents.
Players that haven't experienced the thrill of the game yet will appreciate the chance to stay true to their set budget. The maximum limit is $50, which is more than enough for regulars.
Even if you're not sure about your roulette skills, this casino offers such a low betting limit that your losses won't have a significant impact on your wallet. Give it a go — you never know.
MYB Casino

Enjoy the bright lights of a big city in just a few mouse clicks. MYB Casino welcomes players and transports them to the Vegas Strip as soon as they open the homepage.
The luxuriousness and attractiveness of this casino definitely come from the black and gold color palette. Yet, it's the range of bonuses and promotions that complete the picture.
Even with such a lavish reputation, MYB Casino offers low-limit live roulette games for beginners. We appreciate any online gambling platform that caters to players of all budgets and offers a decent selection of live roulette games.
Regardless of the roulette variant you choose, you can enjoy a mobile-optimized version if that's what you prefer. The minimum betting limit is $0.50, while the maximum is $50.
We believe this is more than enough to keep you on your toes and make you come back to this one-of-a-kind casino.
About the Author