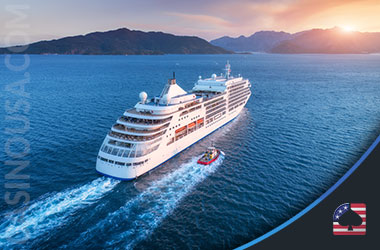 Have you ever thought about how cool it would be to gamble somewhere other than on solid ground?
If this thought has crossed your mind, you should definitely consider gambling while cruising some of the world's most beautiful seas and oceans. After all, casino cruise ships are synonymous with a fun-filled vacation with family or friends.
We've investigated some of the best casino cruise ships out there and come up with our top seven picks.
If you're interested in taking your gambling habits on board, read on to find out which cruises have impressed us. They have been listed in no particular order.
Royal Caribbean Cruise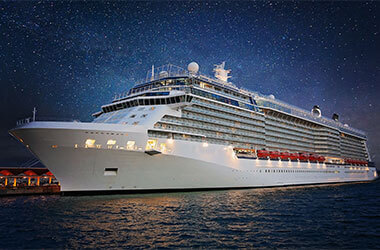 Whether you're considering short-trip destinations around the US or breathtaking locations worldwide, there's no need to worry — the Royal Caribbean Cruise has it all. From Florida and Texas to Canada, Mexico, Greece, Italy, Thailand, and other Asian countries, the Royal Caribbean has thought of everything.
What's more, the company offers last-minute cruise and weekend trips to appeal to busy individuals who don't have the time to plan a vacation.
The cruise ships set sail from multiple ports around the US, including:
Miami
New York
Baltimore
New Orleans
Los Angeles
Boston
You can also join the cruise from other cities worldwide.
These ships are true replicas of Vegas floating across the world. They offer numerous advantages for players, including a rewards program, exciting tournaments, and other perks.
You can try your hand at more than 6,000 slot machines on the ship or give:
A chance if table games are more up your alley.
If you're not a gambling extraordinaire but still want to board a casino cruise ship, you can enroll in complimentary gaming lessons. Knowledgeable dealers will help you master popular table games in a jiffy.
Norwegian Cruise Line
One of the largest and most well-known European casino cruise ships also accepts players from the United States.
Norwegian Cruise Line starts from New York and takes passengers on a transatlantic journey all the way to Spain. Not only will you get to enjoy beautiful sea views, but you'll also explore the beauty of the Mediterranean and the Spanish region.
If that's not to your taste, you can start your vacation in NYC and visit the Caribbean instead or board a ship somewhere in Europe and end your journey in the States. You will have a wide range of options to choose from.
Guests will have numerous activities to look forward to once on board — from spectacular live entertainment and fine dining to a fully equipped casino floor.
Slot players can warm up with $1 machines and finish the night at the $100 ones. On the other hand, you can explore the table games that range from $5 to $5,000 minimum — as you can see, there's something for everybody.
If you're not sure how to play poker, blackjack, or any other game, you can do it with the help of professional dealers on board. Who knows — with their assistance, you may become a millionaire in no time!
Queen Mary 2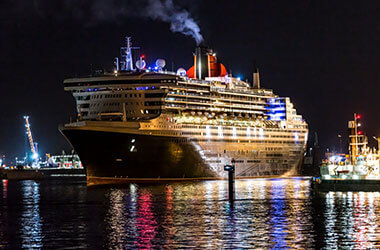 Whether you're planning on starting your journey in the US, Canada, Central America, South America, Europe, or any other location, the Queen Mary 2 cruise ship will not disappoint. Its itineraries can take you around the whole world, so not only will you enjoy some terrific casino games, but you will also get to explore some of the most wonderful regions, countries, and cities.
The onboarding typically begins in New York or Boston, but you will have a chance to come aboard on the Pacific Coast and cruise around California for a few days, as well. Passengers can also explore the Last Frontier and take a trip to Alaska to discover America's natural beauty.
While aboard, you'll get to wine and dine in a luxurious restaurant and enjoy shows at the Royal Court Theater. But what you're probably most interested in is the casino floor. The casino comes alive at night, while croupiers can teach you a thing or two about daily gambling.
This beautiful ship and its casino represent the perfect mix of elegance and gambling, so players can expect an elevated gaming style. You can also try out private poker rooms at an additional cost and find out more about what lies behind the closed door.
Princess Casino Cruise
Whether you want to explore locations around the United States or travel south to Mexico, Central America, or South America, the Princess Casino Cruise is a great choice for you. This cruise even offers short getaways (usually lasting three to six days), thus allowing workaholics to take a break as well.
Passengers can board the ship from various North American locations, like:
The options are quite diverse, so you are bound to find the one that suits you best.
Aside from being a truly marvelous cruise ship, Princess Casino Cruise also allows passengers to dip their toes into gambling waters. The journey offers slots and jackpots of all kinds, as well as a variety of table games like:
Bingo fans are not forgotten, as they will also get a chance to choose their favorite numbers and win big.
In addition, the cruise ship offers tournaments focused on fan-favorite games, such as poker, as well as some individual tourneys for players who don't bode well under pressure. You can even take advantage of the Princess Players Club while onboard.
Freedom of the Seas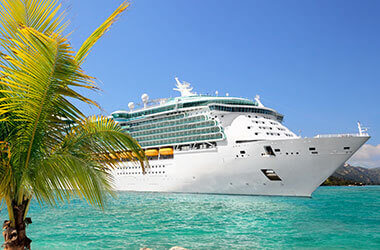 Freedom of the Seas offers worldwide cruises that embark from various ports in the USA such as:
Galveston
New Orleans
Seattle
Tampa
Miami
No matter which part of the country you come from, you'll probably find a port near you where you can start your next journey.
You can travel to Europe and explore the Mediterranean or visit Mexico, Bermuda, the Bahamas, and more luxurious destinations.
What's more, Freedom of the Seas offers both short and long trips, accommodating all traveler types.
Your next gambling session is powered by Casino Royale, a high-end casino floor with numerous gaming options. From slots to table games, players can find what suits them best. Don't forget to visit the poker room for a full gaming experience.
All of this is topped off by a fine dining experience you won't find anywhere else. So, don't forget to unwind and enjoy some tasty food on the deck.
Carnival Vista
If gambling is your favorite pastime, then Carnival Vista has everything you could ask for while sailing across the world. The cruise departs from 12 United States locations, including Florida, New York, and California ports. It then sails across the ocean to numerous destinations.
Carnival Vista is a perfect choice if you want to explore the Land Down Under and witness some unbelievable nature and scenery. Plus, it's one of the only cruises that offer trips to New Zealand.
When it comes to onboard activities, Carnival Vista has outdone itself in all regards, especially in terms of the casino floor. The casino experience will appeal to both high rollers and casual players, but also to those among you who haven't had the chance to place a bet before.
Furthermore, you can join the Carnival Players Club for additional benefits. The cruise is equipped with:
Slot machines
Table games
Scratch-offs
Tournaments
What's more, the casino will add complimentary drinks to your name once you've gathered enough casino points. What more could you ask for?
Celebrity Cruises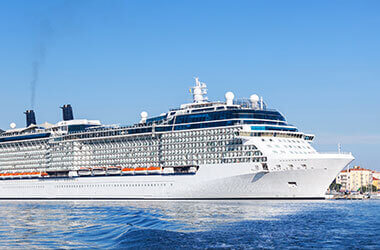 With over 300 cruise ports worldwide, Celebrity Cruises has one of the most diverse offers on this list. This cruise will take you around the world, as it features some of the most interesting destinations: from South America to Europe and Asia — take your pick.
Celebrity Cruises offers a wide range of experiences, both in terms of cruise types and onboard activities. You can even get some inside information on cruising in case you've never set foot on a cruise ship before.
When it comes to the casino part, you're in for a luxurious treat! Celebrity Cruises is known for its luxe casino experience, as it offers a sophisticated gambling atmosphere not present on many other ships. The casino also has custom limits and better odds — a real treat for high rollers.
In this casino, you'll find:
Over 2,000 slot machines
More than 150 table games
Many other action-packed gambling adventures.
Plus, if you're a successful player, you'll even get a voucher for your next voyage.
Short Breaks
If you cannot afford to take a few weeks off work, we have a few less time-consuming options, as well. Let's take a look!
Victory Casino Cruises
If you need a quick break from the office, this casino cruise ship is a perfect choice. Victory Casino Cruises offers excursions from Port Canaveral, Florida. The departures are offered every day from Wednesday to Sunday, and each lasts around five hours.
When it comes to gambling, Victory offers:
Slots
Blackjack
Craps
Roulette
Baccarat
Bingo
Several poker variants
All you need to do is find a table or machine you like and get started. What's more, you can even place bets on your favorite sports team, as the cruise also features a sportsbook.
Big "M" Casino Cruise
Another great choice for a day-long break is the Big "M" Casino Cruise. This short cruise offers two daily slots for departure, one in the morning and the other in the afternoon. You can visit the port in Little River, South Carolina, and board one of the two ships any day of the week.

The casino floors on both ships are quite impressive, offering 158 and 248 slot machines, respectively. You can pick the game you like or join one of the table options, like:
Blackjack
Craps
3-Card Poker
Let It Ride
Either way, there's plenty to look forward to!
About the Author