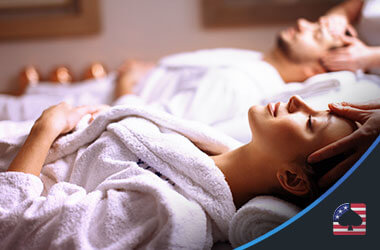 We all need a break from time to time, especially after a turbulent 2020. If you're planning a weekend getaway for either yourself or a group, there are plenty of options. For instance, in case you are up for a casino and spa combo weekend, the US offers many top-notch destinations.
Keeping that in mind, let's see all of the top destinations for casino spa weekend getaways across the country:
Wynn Resorts Las Vegas
If you're traveling through the western part of the States or heading straight to Nevada, you won't find a better getaway spot than Las Vegas. More specifically, I recommend the Wynn Las Vegas resort, which offers some of the highest quality services I've ever seen.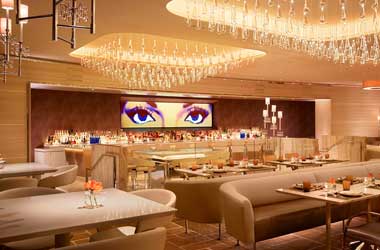 Wynn Resorts is located on Las Vegas Boulevard, and it's the proud holder of more Forbes Travel Guide Five-Star Awards than any other independent hotel company worldwide. With that in mind, it's not surprising that this resort offers so many amenities.
What you're probably interested in are the spa and casino sections. Namely, you'll find two award-winning spas, each offering special treatments to help you unwind and relax.
Note: The Wynn Spa is opened daily, while the Encore Spa operates three days a week.
Whether you want to spin the reels or try your luck at a table game, you can choose between two casino locations — Wynn and Encore. The casinos offer more than 1,800 slot games, roulette, blackjack, and various other table games. You can also join an exclusive poker room or bet on your favorite sport in the Race & Sports Book room.
Hyatt Regency Lake Tahoe Resort, Spa and Casino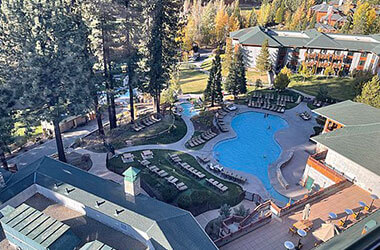 While in the same area, why not visit the ever-attractive Lake Tahoe? Located in the Sierra Nevada Mountains, near California and Nevada's border, this lake is the perfect resort destination.
What more could you possibly need?
Well, I would add a relaxing spa experience and a thrilling casino floor. Luckily, the Hyatt Regency offers both. Currently, guests can take advantage of the Stillwater Spa & Salon at the hotel and indulge in a pampering session. Both massages and body treatments are available, so you will leave refreshed and ready to take on the gambling world.
The casino floor is powered by the Grand Lodge Casino, offering attractive promotions during the whole year. The casino features over 20,000 square feet of gaming space, meaning you can expect a wide variety of options.
The rustic-looking casino floor offers more than 260 slot machines and 16 gaming tables. Although it might not sound like a lot, there's enough room to host dozens of players. Naturally, there is also a sportsbook section where you can bet on your favorite team or player.
MGM National Harbor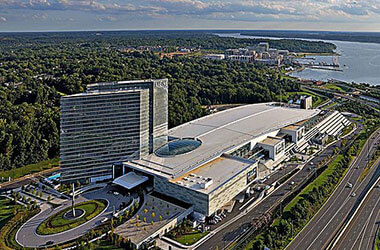 When thinking about a weekend getaway, Maryland might not come to your mind. However, the luxury MGM resort is located right on the Potomac River bank, a few minutes from Washington D.C. Aside from fine dining, regular entertainment, and wild nightlife, the resort also offers a perfect weekend getaway package.
So, if you want to unwind and let your hair down, I recommend that you start with the Spa & Salon experience. I doubt you've ever visited a 27,000-square-foot oasis before — trust me, it will sweep you off your feet. The floor includes:
11 luxurious spa rooms
A full-service salon
Fitness center
Along with many other amenities
You can visit it daily to feel restored and renewed.
The casino floor does not disappoint either. The MGM casino offers more than 2,900 newest and most popular slot machines, as well as a high-limit room with 48 exclusive games. Aside from the regular table games, you can also enjoy the Quartz Hybrid Electronic experience — the first of its kind in the United States. Here, you can play multiple games at once.
On the second floor, the MGM has a poker room with 46 tables, 10 of which include high-limit games. You won't find anything quite like it elsewhere. Fans of sports and race betting can join the betting lounge created in collaboration with the Maryland Jockey Club, stretching over a 1,500-square-foot floor.
Nemacolin Resort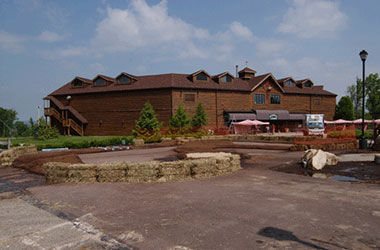 This luxury resort is situated on 2,000 acres of land in the Laurel Highlands of southwestern Pennsylvania. It offers numerous amenities. Aside from the golf course, five types of lodging, 15 dining options, off-road driving academy, downhill skiing, and winter trails for snowshoeing and dog sledding, the resort also has a spa and casino.
The Woodlands Spa offers 40 rooms and a variety of massages and treatments that will help anyone feel relaxed and rejuvenated in no time. You can also take advantage of the salon and wellness center, as well as the Holistic Healing Center.
When it comes to gambling, Lady Luck Casino Nemacolin is available to all guests. The casino is equipped with around 600 machines, including slots, keno, and video poker. If you've never gambled before, these games are a great starting point.
Games such as blackjack, poker, and roulette await you on 27 gaming tables. Don't forget to take advantage of the many available promotional offers, such as the $10 Blackjack table Monday–Thursday promotion.
If you're a high-roller, join the high-limit gaming area and take your chances on blackjack.
Beau Rivage Resort and Casino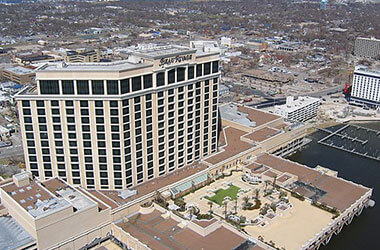 MGM also extends its luxurious resort offer through the Beau Rivage Resort and Casino in Mississippi. Grand Luxury has recognized the resort as one of the best hotels in the world. The location on Beach Boulevard in Biloxi is accessible and convenient.
You can expect thrilling nightlife, a first-class dining experience, and many entertainment options in the true MGM style. Naturally, you can also take advantage of the spa and casino amenities.
Your getaway is the perfect opportunity to pamper yourself and enjoy the ultimate relaxation techniques in Beau Rivage's exceptionally tranquil spa sanctuary.
What's more, you can benefit from numerous spa packages, whether you're traveling alone or with a partner. The spa staff guarantees you'll leave feeling rejuvenated and refreshed.
When it comes to testing your luck, the Beau Rivage Resort and Casino offers more than 1,800 latest slot games from the top providers. So, if you consider yourself an inexperienced player, try your hand at spinning the reels.
However, if you prefer cards, I recommend one of the many available gaming tables. Games like blackjack, roulette, and craps are some of the most popular among visitors. Naturally, if you're more into poker, the resort has prepared a special poker room, which offers a few variants of the most popular card game.
The High Lounge is reserved for high rollers. It offers more than 100 slots and games, including baccarat and blackjack.
Final Thoughts
There's something for everyone on this list, regardless of whether you prefer the East Coast or the West Coast. No matter which resort you choose, you'll get a chance to enjoy yourself without lifting a finger.
Hopefully, some of my favorites will help you decide where you want to go next. Find your perfect combination of a spa center and casino floor, and hop on the next flight.
About the Author