41

casinos found based on your search.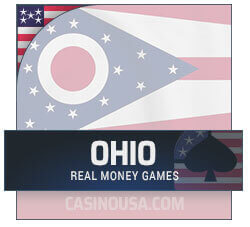 As for Ohio real money casino games, don't get your hopes up — Ohio laws do not allow them. Thankfully, the Buckeyes are nothing but resourceful.
So, in this piece, we'll tell you all you need to know about the legality of real money games and, more importantly, which casino games you'll get to play for real money.
Are Real Money Casino Games Legal in Ohio?
Real money casino games are legal in Ohio, but only in the state's land-based casinos.
Note: Real money casino games have been legal since 2009, and Cincinnati, Columbus, Cleveland, and Toledo host them.
They've been legal since 2009, and Cincinnati, Columbus, Cleveland, and Toledo host them.
As for online real money casino games, the state's gambling laws do not cover them, and the same goes for online casinos.
Due to this, some consider online casinos and online casino games to be legal, while others consider them illegal. There's no point in making judgments here as everyone has a different opinion, and this won't change until the state decides to legalize online casino games.
Thankfully, Buckeyes have quickly garnered all of this to mean that they are entirely free to join offshore online casinos and play casino games in them for real money and for as long as possible. The state is not looking into stopping people from doing that, plus offshore sites are not in its jurisdiction.
Ohio Online Casinos Laws
As we've said, the state gambling laws don't cover real money games. So, you still need to consider some laws and check them before you start getting in on the action at offshore sites.
Here are the laws you should look into:
How to Register at Ohio Real Money Casinos
As Ohio players can only access offshore online casinos, we'll give you a step-by-step explanation of joining one.
Naturally, you have to make sure you're joining an excellent online casino with valued licenses, an established reputation, and many bonuses and games. The casinos we recommend fit that description, so it's best to stick to them initially.
Here's what you need to do to register an account at one of them:
Choose a casino from our list.

Visit the official site of the online casino through our link.

Click the Register/Sign Up/Join button and complete the registration process. 

Verify your account if necessary.

Visit the Deposit section of the account.

Pick one of the available methods and complete a deposit.

Once the money reaches you, start playing!
Best Real Money Casino Games in Ohio
Even though legal online casinos don't exist in the state, players have many options. Between the games offered at Ohio land-based casinos and offshore online casinos, you'll get the chance to play a wide range of different casino games.
In the following couple of sections, we'll discuss all the available types of games so you'll know what to expect.
Useful Guides for Ohio Players
Ohio online casinos games can be difficult to understand especially with all the laws that govern their use, so here are some excellent, easy to read and in-depth guides to get you started.
Conclusion
Ohio has recently legalized sports betting, but real money casino games are still only legal in brick-and-mortar casinos found in a few locations in the state.
We don't know when online casinos and their games will become legal, but what we do know is that joining offshore casinos is entirely safe, and you can find various casino games.
You can find practically all real money casino games in offshore online casinos, while many are also available in the state land-based casinos. The good news is that all of them are at your fingertips, so you can start having fun playing real money games in no time.
FAQ
Are real money games legal in Ohio?
Most real money games are legal in Ohio's land-based casinos. However, the state hasn't made their online counterparts legal, so players can only enjoy online games on offshore casino sites. You can pick any of the offshore casinos we recommend on this page, as all were carefully vetted and are currently the best options on the market.
Is online gambling legal in Ohio?
No, online gambling still hasn't been legalized in Ohio. However, the state is moving in the right direction. The state legalized land-based casinos in 2009 and sports betting in late 2021. We are optimistic that things will also change for online gambling in the next few years.
Am I allowed to play real money games on offshore casino sites from Ohio?
Yes, you are. The law is not specific on this, and the state has never made any efforts to punish Ohioans for joining and using offshore online casinos. Many Buckeyes are playing online casino games for real money on these international sites, including the ones recommended on this page.
What real money games can I play in Ohio?
Between the state's land-based casinos and offshore online casinos, you can play almost all types of casino games. These include games like slots, baccarat, blackjack, roulette, craps, poker, video poker, live dealer games, and many others.
About the Author