35

casinos found based on your search.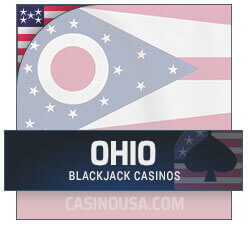 Currently, the legal landscape includes casino gaming, horse racing, video lottery terminals, online horse racing, daily fantasy sports, sports betting, lottery, and charitable games. While that may seem like a lot, the options are quite limited in reality.
The Buckeye State still hasn't legalized online casinos, so Ohioans can play Ohio blackjack online only in offshore casinos.
Is Blackjack Legal in Ohio?
For decades, Ohio voters have squashed any hope of introducing casino gambling to the state. In 1980, the Ohio legislature rejected legalizing casinos, and the same happened a decade later when the voters decided against legal casinos.
The biggest change in Ohio gambling history occurred in 2009 when voters finally approved the legalization of four land-based casinos, not one more. These are strategically located in the state's largest cities:
Cincinnati
Columbus
Cleveland
Toledo
Only these venues can offer a full spectrum of casino games, including blackjack.
So, there you have it — blackjack has been legal in Ohio since 2009, but only in four brick-and-mortar casinos.
OH Blackjack Laws
If you're curious about the specifics of the Ohio gambling laws, you might find the following links useful:
How to Register for Online Blackjack in Ohio
As you can see, Ohio blackjack fans have plenty of options at their disposal. Our list contains names of industry-leading international casinos carrying fantastic gambling opportunities. Once you're ready to play online blackjack for real money, you'll have to do the following:
Choose an online casino — Look at our recommendations and pick an online casino that suits your preferences.

Create an account — Visit the official casino site and select the option to sign-up. Fill out the required fields with personal, contact, and location information. Confirm the registration.

Top up your balance — Go to the Cashier and choose the option to deposit funds. Select your preferred payment method, specify the amount you'd like to transfer, and complete the transaction.

Claim a welcome bonus — Once the money has been credited to your account, go to the Promotions section and acquire the welcome bonus.

Go to the game lobby —  Explore what the casino offers and choose a game to start gambling online.
Best Online Blackjack Real-Money Casinos in Ohio
Players looking to experience live blackjack can do so in one of four state-owned land-based casinos. These are the only venues allowed to offer skill-based card games to Ohio residents.
Since the state still hasn't legalized online casinos, the options are quite limited. Below, we'll explain more about Ohio's online and land-based blackjack offerings.
Online Blackjack in Ohio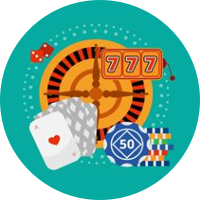 Though online gambling in Ohio isn't technically legal, it isn't expressly vetoed. The complex gambling laws imposed by Ohio lawmakers only allow four casinos to offer live blackjack games.
You can also play in sweepstakes online casinos where no real money is involved. These sites offer various blackjack options, but you can't wager or win real money.
So, if you'd like to play for fun, sweepstakes are an excellent option.
Ohio laws don't mention offshore online casinos, meaning you can turn to them for online blackjack opportunities. You won't be fined or prosecuted for playing on such sites, and you'll have a chance to experience the thrill of real money blackjack.
Land-Based Blackjack Casinos in Ohio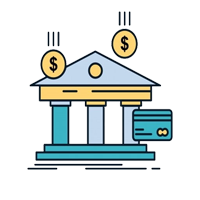 After two decades of legislative battles and efforts to legalize casino gambling, Ohio voters approved a constitutional amendment (by a narrow 3% margin) to allow the state's four largest cities to host casino gambling.
In 2012, Cleveland, Cincinnati, Toledo, and Columbus established a land-based casino overseen by the Ohio Casino Control Commission (OCCC). Although the state has seven racinos, it allows them to host only slot-like VLTs.
Therefore, your best bet is to visit one of the four cities and gain immediate access to various blackjack games, including:
Free Bet Blackjack
Zappit
Rock n' 21
Buster Blackjack Side Bets
Blackjack TriLux Super3
Legal Real-Money Online Blackjack Casinos in Ohio
If you don't live anywhere near the four brick-and-mortar casinos, playing blackjack in offshore casinos might be your best chance to experience the thrill of real-money gambling.
Since the state laws don't expressly prohibit playing in internationally-licensed online casinos, you can easily sign-up and unlock endless online gambling opportunities that have the potential to yield fantastic prizes.
So, if you want to place real-money wagers on your favorite blackjack game, check out the table above and choose the online casino you like the most. Each site we recommend holds a valid license and uses cutting-edge security measures to protect its members and their personal information.
OH Real-Money Blackjack Casinos
If you follow the steps above, you'll become a casino member in no time. As a new user, you'll gain access to a juicy welcome bonus to boost your blackjack bankroll and give you more funds to play with. You'll find an array of blackjack variants, regardless of the site you choose.
Of course, you shouldn't go in blind and use up all your money without observing certain rules. For instance, you'll have to verify your account before withdrawing the winnings.
It's a simple procedure where you upload a copy of your ID and send it to the casino. You'll also have to meet the bonus wagering requirements before collecting your winnings.
OH Blackjack Rules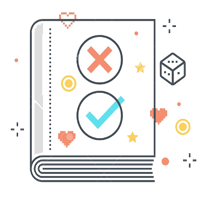 The four land-based casinos offer dozens of immersive blackjack games. They are all led by professional dealers and played in a neat-looking casino lounge.
While blackjack requires some skill, it's not as complicated as poker. Once you learn the ropes, you'll have no trouble trying out different blackjack games available in OH brick-and-mortar casinos.
Aside from the classic version, casinos host unique variants with many fun features. For instance, Rock n' 21 pays different odds for every color combination — 2:1 for two black cards, 3:2 for red, and 1:1 for a mix of the two.
However, if you're entirely new to the subject, this article might help you. It's a detailed blackjack guide perfect for beginners. Once you're done reading it, you can start playing blackjack right away.
Live Dealer Online Blackjack in Ohio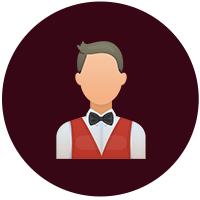 Since Ohio has yet to introduce online gambling to the state, the residents looking for online blackjack can sign-up on offshore sites. They are internationally licensed, so Ohio and US laws don't apply.
Live dealer games have become a hit in the last several years. Players who prefer the human touch of brick-and-mortar casinos can always opt for dealer-led online blackjack. These games are broadcast via high-definition live stream and feature professional dealers in a casino studio. You'll feel as if you were seated in your favorite casino, ready to show off your blackjack skills.
Offshore casinos that cater to Ohioans boast a range of unique and high-quality blackjack variants. All games come with a live stream and a chat option allowing you to communicate with the dealer and other participants.
So, if going to the nearest land-based casino means a long road trip, staying in and playing live dealer blackjack in offshore casinos might be a better solution.
List of Popular Blackjack Casinos in Ohio
Ohio lawmakers have a somewhat peculiar stance towards gambling, and online casinos, in particular. According to the Ohio Revised Code, racinos (racetracks with a gaming area) can only host slot-like video lottery terminals and nothing else.
Until 2009, Ohio had no land-based casinos. After the voters passed the Casino Approval and Tax Administration Amendment, the state built four land-based casinos in Cincinnati, Toledo, Columbus, and Cleveland.
They are also the only venues that can host slot games and skill-based card games, including blackjack and poker.
Useful Guides for Ohio Players
Ohio online casinos can be challenging to understand, especially with all the laws that govern their use, so here are some excellent, easy-to-read, in-depth guides to get you started.
Conclusion
Saying that Ohio gambling laws are complex might be an understatement. The state has shown efforts to introduce some forms of online gambling (DFS and horse racing), so the idea of legalized Ohio online casinos might not be so far-fetched.
However, until that happens, you can always count on the four land-based casinos and offshore sites that carry exciting bonuses, immersive blackjack games, and many other benefits.
So, if you're ready to test your blackjack skills, check out the table above and pick your favorite offshore online casino. Good luck!
FAQ
Is blackjack legal in Ohio?
Skill-based games, including blackjack, are legal only in four state-owned casinos in Toledo, Cincinnati, Cleveland, and Columbus. In 2009, Ohio voters authorized the launch of four casinos, allowing residents to play real-money blackjack.
Can I play online blackjack for real money in Ohio?
Ohio has yet to legalize online gambling. Although DFS (Daily Fantasy Sports) and horse racing are available online, other gambling options are still illegal. However, you can always turn to reliable offshore online casinos and engage in exciting online blackjack games.
Can I win real money playing online blackjack in OH?
Of course. If you choose one of our recommended offshore online casinos, you'll gain access to a range of fantastic blackjack games. Once you sign-up and top up your account, you'll be able to use real money and play blackjack from the comfort of your home.
Will Ohio legalize online casinos soon?
Ohio has shown the will to introduce online gambling by launching online horse race betting and DFS platforms. While online casinos may not be the primary focus, it's clear that there's not much legislative pushback against legalizing online gambling. Hopefully, OH will soon broaden its gambling landscape and introduce online casinos to the fold.
About the Author