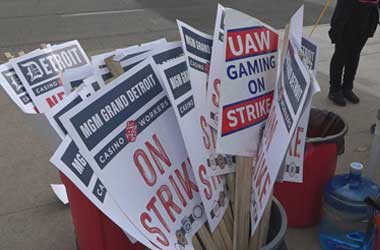 Summary:
MotorCity Casino and Hollywood Casino Greektown sign new five-year agreements.
MGM Grand voted down the agreement and stays on strike.
Vote tallies have not been released to the public by the Detroit Casino Council.
Detroit casinos have been on strike for quite some time as casinos and unionized employees have been unable to come to an agreement. That almost ended on Sunday night when two of the three commercial casinos in the city were able to come to an agreement.
MotorCity Casino and Hollywood Casino Greektown ended their strikes at 9 pm last night after ratification votes were successful. MGM Grand remains on strike.
Seventy-Five Percent Success
Employees of MotorCity and Hollywood were happy with the suggested agreements, and ratification votes by union members approved the new contract. The casinos in state of Michigan now have five-year deals with their employees.
For the MGM Grand Detroit, the casino remains on strike. The casino council released the news regarding the decisions late last night. More bargaining dates will be scheduled to try and end the strike at MGM Grand and get employees back to work with a quality agreement.
The vote tallies for each casino were not released to the public. It is unclear how close MGM Grand was to striking a deal with the casino.
Details of the New Agreements
On October 17, around 3,700 casino employees went on strike after their current work contract expired. The casinos remained open during the strike and have relied on managers to stay in business. The new contracts signed by MotorCity and Hollywood cover just under 3,000 employees and include the highest wage increase since the casinos began offering services in Detroit.
The contracts include an upfront hourly raise of $3 in year one and $5 in total over five years. Employee health insurance has no increase in cost, and there will be a 401k employee match up to $1,000, a first of its kind.
Employees will be paid for Juneteenth, and housekeeping workloads will be reduced. This is all part of what employees requested during negotiations.
MGM Grand Detroit has not commented on not cutting a deal with its employees. Now that details are out concerning the other two casinos, the employees likely want more or were not provided the same type of deal as the employees of the other two casinos.
It will be interesting to see if MGM will be able to cut a deal soon or if the casino will remain on strike indefinitely. With the holidays approaching, it will be important to have knowledgeable members on hand to assist travelers for the casino to remain successful.
About the Author