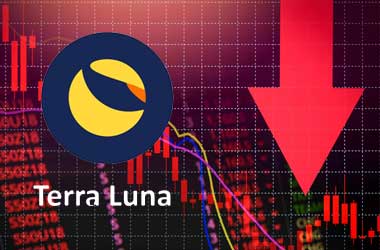 On May 7, the notable blockchain Terra and its native token LUNA started falling. From almost $80 in price, it eventually tanked to a fraction of a cent, erasing 99.98% of its value in barely a week.
At the same time, Bitcoin went from around $36,000 to less than $27,000, the lowest in more than a year.
So, what happened, and more importantly, what does all of this mean for online casinos and their players?
Terra (LUNA) Crash — What Happened?
As stated, the Terra Luna token lost almost all of its value in a short time. This wouldn't have been much of a problem for the overall crypto market. However, the crash led to a loss of value in other cryptocurrencies.
This led to people and investors panicking, leading to whole digital markets plummeting.
First, the LUNA crash led to a crash of the TerraUSD stablecoin that's also part of the Terra blockchain. It's pegged to the US dollar, but it still lost around 70% of its value.
Soon, the main stablecoin on the market also tied to the dollar, Tether, lost value, falling to an all-time low of around $0.95.
The whole crypto market has lost a significant portion of its value as Bitcoin fell below $30,000.
Terra decided to halt the trading of TerraUSD and Terra Luna to find a way to fix things.
What Are the Consequences?
The consequences for many investors and Terra owners are enormous. However, all is not lost, and there are chances that Terra will recuperate.
As for others, panicking is certainly not necessary. Tether has already recuperated and is less than a cent below $1.
More importantly, Bitcoin has jumped in value, reaching $30,000 once again, but it's yet to reach its levels before the crash.
Overall, there are reasons for people to be optimistic, not only because the markets are starting to recuperate but also because crashes are inherent and inevitable in the crypto world.
What Does the Crash Mean for Online Casino Players?
Most online casinos don't use Terra as a payment method, so Terra crashing hasn't affected them. The same could be said about most casino players.
However, the crash did affect other cryptos, most notably Bitcoin, Ethereum and Tether, all of which are used as payment methods in various casinos.
As we've seen, most of these have already recuperated or are slowly doing so, leaving no room to panic. The crypto market took a big hit, and this sort of volatility is impossible to avoid.
Online casinos are not going anywhere despite the crash and the panic, so there's no reason to worry, but you should stay vigilant.
If I've Been Affected By the Crash, What Should I Do?
If you are a Terra owner and this whole crash has affected you considerably, consider calling a National helpline number to discuss things with a professional.
Besides that, make sure you're not investing more than you can, and certainly don't invest blindly or through sites and people you can't trust. Use official exchanges, and make sure you're investing smaller amounts you can afford to lose.
Remember that things change in the world of crypto all the time, and this crash doesn't mean that things won't change for the better in the long run, especially with major cryptocurrencies that have proven many times over that they are here to stay.
About the Author