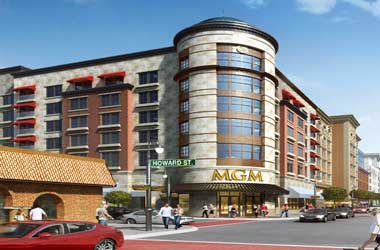 Summary
The casino reported $23.7 million in earnings for April.
The total was more than the $22.5 million from the previous year.
April saw $1.65 million in sports bets for the venue.
MGM Springfield is a top-rated casino located in Massachusetts that offers players sports betting, slots, and table games.
With the start of sports betting, concern had arisen that the standard casino game revenue would be affected, but that does not seem to be the case. The slots and table games continue to do better than the sports betting industry for the brand.
April Sees High Slot and Table Game Revenues
MGM Springfield brought in $23.7 million from slots and table games for April. This was a bit higher than the 2022 April total of $22.5 million. The Massachusetts Gaming Commission just recently revealed the monthly totals.
In March, the casino hit $24 million in gross earnings from games, and in February was just over $23 million. March was the second biggest month for the casino since it opened five years ago. The casino has only hit the $24 million mark once, both in March (2022 and 2023).
The casino hit $1.65 million in bets from in-person gamblers for its sports betting services. This is a high amount considering the players came to the venue physically. The betting handle is staying pretty steady for the sports betting services of the casino. Previous months were also in the $1.6 and $1.7 million range.
Revenues for Other Massachusetts Casinos
The Commission's report also listed the revenues of two other casinos in the state. Encore Boston Harbor brought in $64 million from its table and slot games, a bit lower than the $66 million of the previous month. It's still better year-over-year for the brand.
Plainridge Park offers slots only and was able to bring in just over $13 million from the games. This was a bit lower than the March totals but better than April of last year.
As far as sports betting is concerned, the state has six online licenses that are currently in operation and three retail license holders. Combined, these providers generated $58.91 million in earnings.
BetMGM saw an online handle of $43 million for the month, and Encore saw $8 million in on-site bets. Plainridge Park had a much smaller $3.4 million handle.
Overall, the sports betting and casino industry is doing well in Massachusetts. It will be interesting to see if the sports betting industry will take the top spot eventually as the new industry matures. We will know more over the next few months as services continue.
About the Author